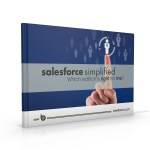 In this eBook we examine the features that frequently force customers to jump from Lightning Professional Edition to Lightning Enterprise Edition. We tackle topics like number of users and functional groups, marketing, analytics, automation, multiple business processes, complex security requirements, custom development, integrations, and communities. We discuss each topic in-depth and in laymen terms so you can assess which Salesforce edition is right for your company.
"If you are new to Salesforce, or still learning about the platform, this guide is for you."
We base this analysis on the combined experience of our consulting practice from hundreds of Salesforce implementations of all sizes and industries.  The goal is to provide you with some real-world examples of how companies, just like yours, leverage these features so you can decide if they are a priority for your business.
To see a visual comparison of the features most utilized by companies using Professional and Enterprise Edition see our companion infographic – Choosing the Right Edition of Salesforce – Professional Or Enterprise?