Are you new to Salesforce CRM, or an existing customer that is struggling with how Salesforce is configured "out of the box?" A QuickStart Implementation Package is a 25 hour engagement that is well suited for a small business looking for a rapid deployment with a single group of users (e.g. a sales team) working in the Professional Edition of Salesforce.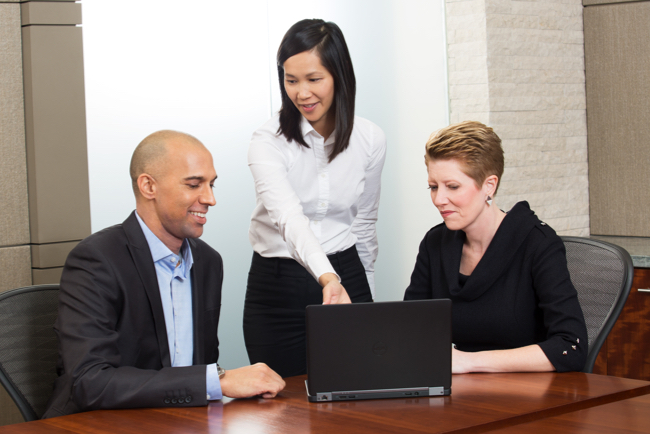 Key Benefits:
Up and running in a few short weeks – a fast track deployment
Guidance and expertise on how to best leverage Salesforce CRM to support your business processes, and avoid costly mistakes
End-user centric training, with hands-on examples that drive adoption
Implementation of best practices around usability and data quality
Reporting and analytics that provide visibility to your key business metrics
Designed for Professional Edition deployments
What's included:
Discovery Session (~4 Hours)
Using a structured agenda, our consultants will facilitate a requirements gathering session to quickly learn how your business markets and sells. We'll uncover what information you'd like to track in Salesforce as well as how your team interacts with customers and prospective clients. Lastly we'll capture requirements around how you want to measure your business so that Salesforce is able to track your success though reports and dashboards.
Salesforce.com Configuration (~10 Hours)
Once we've learned your vision, our consultants will then configure Salesforce to support your selling methodology while making it quick and easy for your users to enter and update records. We'll sweat the details to make sure that Salesforce is optimized to provide your users the best experience possible. If we can reduce frustration and make their job easier – you'll have adoption and a great return on your CRM investment. That's our goal.
A QuickStart implementation includes configuration of the following CRM components:
Home Tab
Leads
Accounts & Contacts
Opportunities
Activities (Tasks, Events and Email)
Analytics (12 custom reports and 2 dashboards)
Configuration Review Meeting (~2 Hours)
At this milestone meeting we will present the configuration for your review and feedback. At this stage we'll have Salesforce 90% configured, but final changes can still be incorporated as needed. We'll demonstrate how your team will work in the Sales Cloud – managing information and tracking interactions with your customers.
Creation of Reports and Dashboards (~3 Hours)
As a business manager, visibility to your company's data is critical. You need to know the health of your sales pipeline, progress towards quotas and individual rep contributions in real time – not when it's too late. Once the configuration has been completed, we'll configure two dashboards comprised of 12 custom reports.
Creation of Training Materials (~2 Hours)
ShellBlack.com will tailor a training presentation in MS PowerPoint that reflects your business processes using screenshots from your configured Salesforce.com instance. Presentations will be ~ 40 slides in length and will be archived inside your Salesforce org for you to keep as a reference and to use to train new employees.
Delivery of End User Training (~4 Hours)
It's time to go-live! You provide the room (with internet access and computers for participants) and we'll provide the evangelism and expertise to guide your team to success. We'll cover key concepts, how Salesforce manages data, and best practices on quickly finding, creating and updating records. We'll show your end users "WIFM" (what's in it for me) – how Salesforce can make them more productive and successful. Participants will have hands-on exercises to reinforce business processes and drive adoption.
Total Price: $5,000
The clock is ticking on your annual subscription – get your sales and management team up and running quickly and drive adoption, while avoiding common Salesforce CRM implementation mistakes.
The following components are not included in a QuickStart implementation, but may be added for additional cost:
Enterprise Edition Quickstarts available – Contact Us for details and pricing!
New to Pardot? See our Pardot QuickStart
Also available, Service Cloud Quickstart