Even with the meteoric resurgence of Apple in the past few years, Salesforce does not have an official email sync solution for Mac Mail (at least at the time of this article). Fortunately for us there is a Salesforce developer named Simon Fell that has come to our rescue with a solution called Maildrop (BTW you can follow Simon on Twitter @superfell).
If you would like to see Salesforce officially support an Apple Mac Mail connector, you can vote up these nominations on the Ideas community:
You can read more about the Maildrop product and it's revision history from Simon Fell's Pocket Soap site: http://www.pocketsoap.com/osx/maildrop/
Also, Simon has a whole suite of Apple Mac OS solutions for Salesforce Users:
http://www.pocketsoap.com/osx/
So let's get started! First you have to go to the download page on GitHub: https://github.com/superfell/maildrop

Go to your downloads in the top right corner of your browser (Safari)

Double click the download and click "Open" in the dialogue box

You'll get a confirmation that the installation was complete and see the Maildrop tool bar

NOTE: Ensure that Mail Drop is in your Applications Folder, otherwise it might throw an error when you try to sync an email.
Before you get started, you may want to read through the help available either by clicking the help icon in the toolbar or navigating to: http://www.pocketsoap.com/osx/maildrop/help/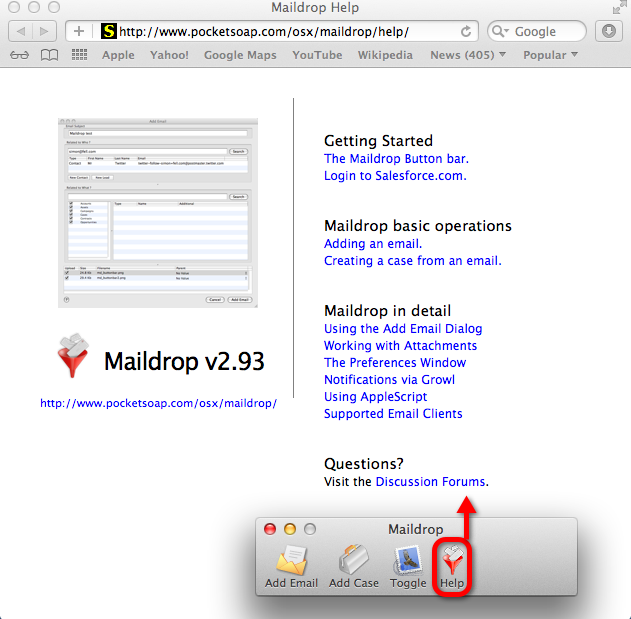 When you are viewing an email, you can click the "Add Email" icon in the Maildrop tool bar, which should prompt you to login to Salesforce account if you have not previously done so.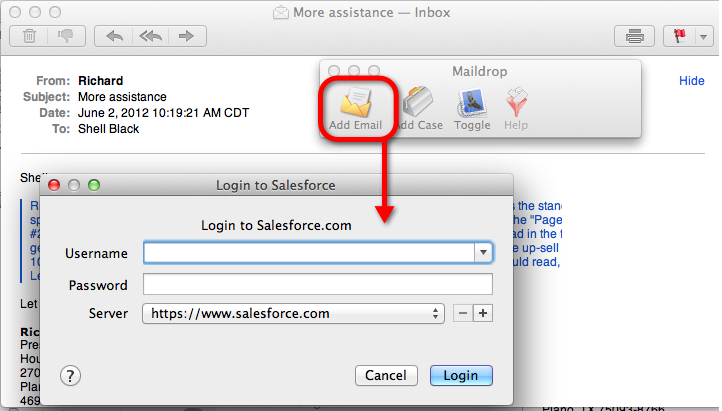 Alternatively you can login to Salesforce from the Maildrop menu bar:

When you login, it will prompt if you would like to make a keychain entry (your choice):
If your login worked, you'll be taken to an "Add Email" dialogue box where you can associate the email to a Contact.
You should be able to click the "Search" button, click and highlight the record you want the email associated to in Salesforce (the record should darken when selected), then at the bottom of the window click "Add Email."
If you don't see any results, check to see if the email address for your Contact in Salesforce is the same as on the email you're trying to sync (or, make sure that person exists as a Contact in Salesforce).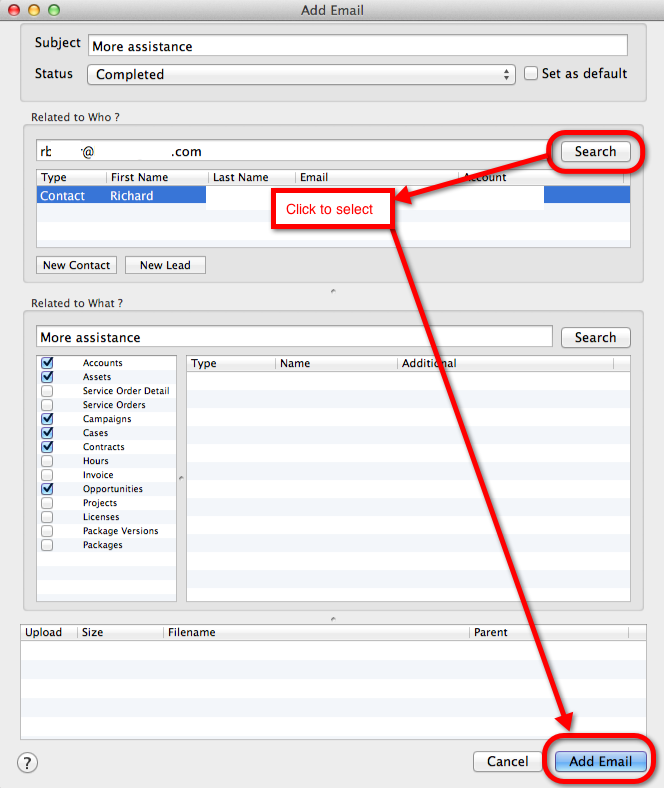 That's it! I won't go into every option available since the app has help built in, but that should give you an idea of how to install it and get started.
Thanks again to Simon Fell for supporting the Mac Salesforce community!