Pretty soon you can use Jigsaw (now Data.com) to keep your Contact data up-to-date, but there is a nice little and commonly overlooked native feature in Salesforce.com to keep the information on your Contacts current – it's by sending a "Stay-in Touch Request."
First things first, you'll need to check your settings for the feature under Setup >Personal Setup > My Personal Information > Email > My Stay-in Touch Settings
Pretty self-explanatory, but it's worth a review to see if you want to tweak your outbound message. Be sure to add a signature in the block provided.
Now that you've made any changes as needed, from any Contact, you can click the button at the top of the records called "Request Update."
From the next screen you'll have one more opportunity to change or personalize the message before clicking the "Send" button at the top of the page.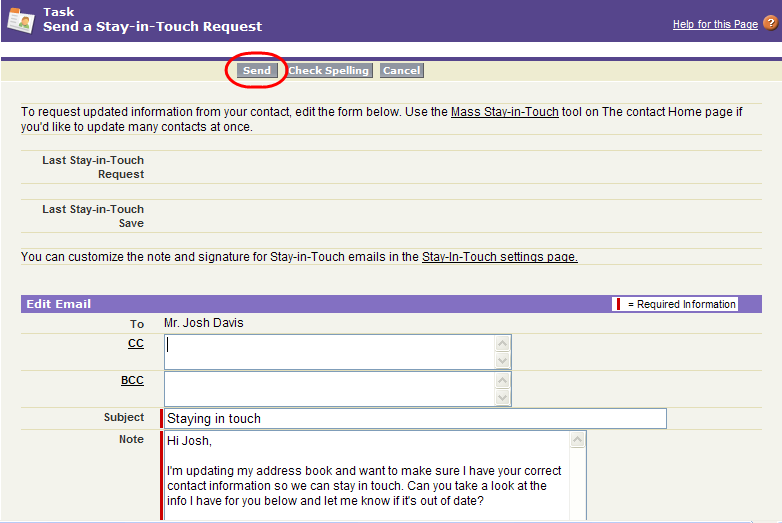 The Contact will be sent an en email entitled "Staying in touch" with a big red button that they can click to update their information or confirm it's correct.
If they click the update option they will see a form like the following:
Once the person clicks "Continue" they will get a thank you message.
The person that sent the Stay-in Touch Request will then get a notification in their email saying an update was submitted:
If the User clicks on the red button in the email labeled "Update Now," they will be taken to Salesforce.com to that Contact's record and presented an interface in which they can accept or refuse the updates that were submitted by the Contact. Click the "Accept Changes" button at the bottom and your Contact is now up-to-date!
You can also perform a "Mass Stay-In Touch" request. You'll see the option when you click on the Contacts tab and scroll down to the bottom where the "Tools" section displays. From here you can create a View to grab a set of Contacts to send a mass Stay-In Touch update. NOTE: That if the Contact has the email opt out check box checked, they will be excluded from the list. This feature is very similar to sending a mass email.