We were recently asked by one of our Dallas clients to help them get a new inside sales group off the ground. They wanted us to provide some best practices on how to setup and mange this new team using Salesforce. This group would be selling primarily on the phone looking for new business and working leads provided to them by marketing – a fairly typical scenario.
We work with sales teams almost everyday. Over the years we've seen what works well and have accumulated lots of tips and tricks to set sales teams, and their managers, up for success. We also have experience configuring Salesforce to leverage CTI (Call Telephony Integration). OK, that's just fancy tech speak for integrating Salesforce with an automated dialer, and it increases call efficiency tremendously.
During our time working with reps and sales managers, we've come to appreciate that the CRM (Salesforce) should be designed to support the more important overarching sales strategy.  Because of this we'd like to start this discussion with the call strategy component before we get into the Salesforce best practices.
Have a call strategy
What is a call strategy? A call strategy is designed to do a few but extremely important things – increasing contact rates with the right roles in an organization and having a goal for each call attempt or interaction. It's knowing:
When to call (time and day), and how frequently
Who to target (what role in the organization)
How to disposition unsuccessful call attempts
What to do if you make contact (having a call script with an objective)
Just as important is the telephony component. Can you dial from a local number? Can you get a direct dial number? Both of the aforementioned can rocket your contact rates. Will you be calling from a dialer or using the console view inside Salesforce (pictured below)?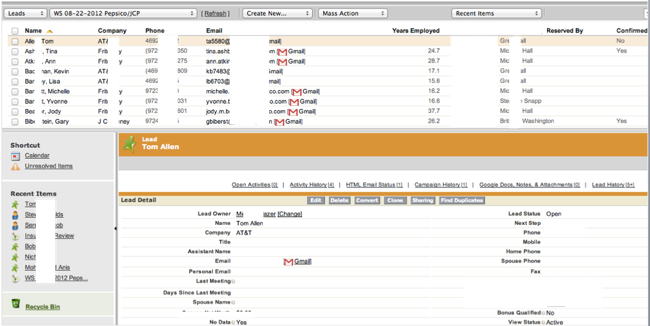 Lastly, and assuming you're leads are not from a purchased list but are generated from your company's marketing, call new leads first – and fast! Speed to dial matters. The longer a new lead ages the less likely you'll make contact.
Research and enrich before you dial
Don't waste a dial! Before picking up the phone you should take a few moments to ensure you're targeting the right contact and that you know something about that person and their company. Nothing will blow a call attempt faster than "um, what do you guys do again?"
There are a lot of tools that can help. For example, with Data.com you can search for contacts by company, level, department or title. You can either buy contacts you'd like to target, or check to see if you having missing information (e.g. the all important direct dial number).
Salesforce now has "Social Contacts" which allows you to see what the company or the individual is posting on channels such as Twitter, Facebook, LinkedIn.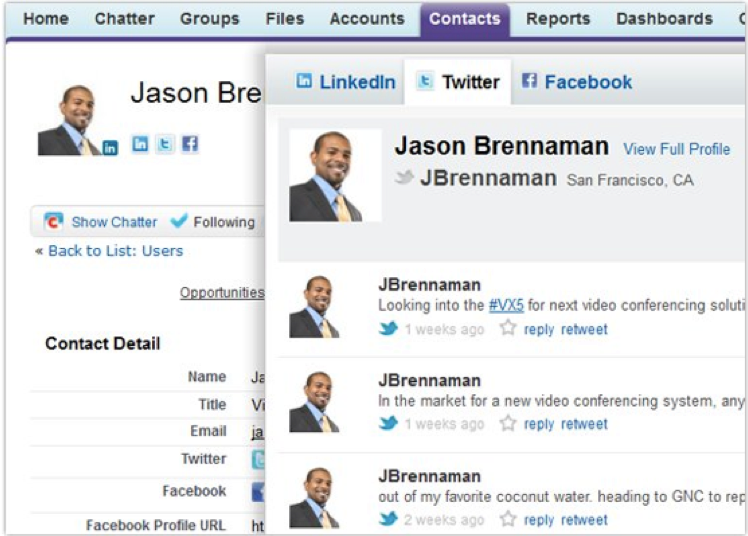 Lastly, don't forget to visit the company's website. Check the "About Us" page for officer bios and look for press releases. Why do all this research up front? It's so when you do get the right person on the phone you can build credibility and rapport instantly – increasing your chances to make a sale.
Configuring Salesforce for Inside Sales success
We like to say, "Don't let the day rule the rep." What we mean by this is that for a rep to be successful they need to be proactive with their sales activities and not reactive. Salesforce should help reps manage their day (who to call, what do I need to do) as well as help them with Account and Pipeline management. As a Salesforce administrator you're looking for ways to keep reps organized and efficient. Some areas to leverage:
Tab Views  (e.g. "My Leads" "My Opportunities")
Dashboards
Console views (great for calling through a list from one screen if not on a dialer)
Chatter for collaboration
Have a repository in Salesforce of approved marketing and sales materials. Don't let reps get creative with branding standards or waste time being a copywriter. Make sure they are armed with HTML emails, whitepapers, presentations, approved lists of client referrals and testimonials, contracts and proposal templates
Create a Lead Scoring system
A lead scoring system quantitatively tells the rep "Who are my hot leads" and "Who should I call first?" Getting into the mechanics, it's a point system that tallies up a score based on information captured on a lead (or contact) record. That score should be heavily weighted for:
Is this the right contact?
Are they a good fit for what we are selling (qualified)?
Are they interested and engaged?
Points can be given for the right company demographic (size, industry, lead source), as well as record completeness (e.g. do you have a direct dial number, title, department). Points can also be given for the amount of engagement with that person – do they respond to emails, agree to meetings, request information and "next steps"?
You can use workflow, formula fields and triggers to get to this calculation (or use a third party marketing platform like Marketo or Eloqua). The higher the score the farther the person should be in their evaluation, and ultimately, the buying process.
Measurement and Management Best Practices
"If it is important to management, it should be important to the rep." This is another sound bite we use frequently. What we mean here is that if there are metrics being measured on a manger's dashboards, you should have the same metrics on the reps dashboards. Said differently, measure the same KPIs (Key Performance Indicators) up and down the organization. When a Sales Manger says, "you've got a deal that is really starting to age" it's probably because it showed up on their dashboard – so it should be visible to the rep as well!
That leads us into another management best practice – reps need their own dashboard. If you allow reps to track their own performance, you should not have any "surprises" at the end of the month when a goal has not been met. This makes coaching a lot easier for managers.
Run your sales meetings from your dashboards. It educates reps on how management is assessing their performance and what is important. It also demonstrates management's commitment to the tool, which will help with adoption. During these sales meetings, don't allow reps to talk about deals not in Salesforce – "If it's not in Salesforce, it doesn't exist." It might sound silly, but it sends a clear message to the rep to get on the program and get their information in Salesforce. Another technique if you're having adoption issues is to tie a rep's compensation to their use of Salesforce.
Other measurement best practices:
Leverage leaderboards on dashboards – no one wants to be at the bottom of a list
Use conditional formatting (shade numbers red, yellow or green) or use gauge metrics to show obtainment of goals
Dump the weekly forecast spreadsheet. Reps hate to do it, it's instantly out of date, and if you're using Salesforce correctly it's redundant – you've got the information on a dashboard!
If possible, "show them the money" and let reps self motivate by tracking commission obtainment on their dashboard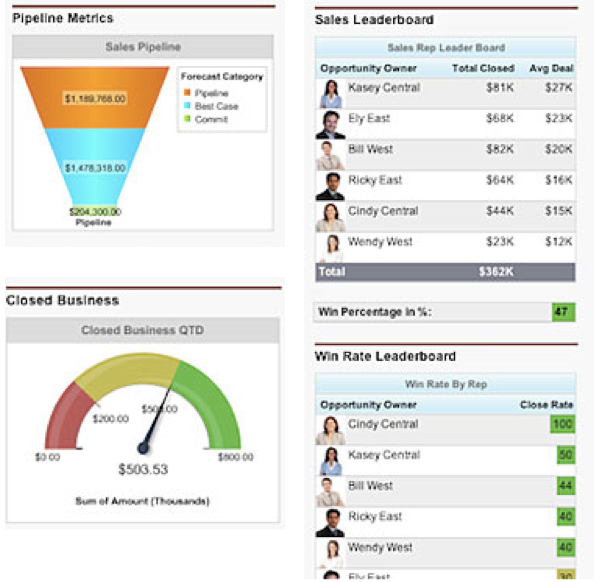 For more on this topic, see our SlideShare presentation.