What is Cloud 2? Marc Benioff publicly launched Cloud 2 in April of 2010 with much fanfare. But what the heck is it? The thrust of Benioff's presentation was that in this age of Facebook, Linkedin and Twitter – the traditional enterprise data model is disconnected from the conversation with the customer.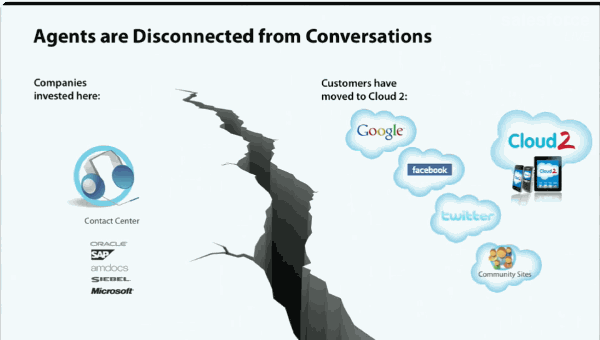 "Why isn't all Enterprise software like Facebook?" – Marc Benioff
Salesforce.com's Cloud 2 allows your organization to bridge the divide and tap into the dialogues occurring in these new social channels. Cloud 2 is about collaboration and making the Salesforce.com platform "social" with apps like Chatter.
Let's take a step back to illustrate the point. Customers are on Google searching error messages, and on social media channels like Facebook and Twitter venting their frustrations (or love) with your products and services. They want to research and investigate on their own and on their terms. It's been a successful technique to get help in the past – so they continue to look to the web for their answers.
Face it – people don't want to pick up the phone to engage you.
If you're lucky, they went to your website to download the owners' manual or checked out your FAQs (you do have that available for your customers – right?). If not your customers by default are searching the greater world wide web to see if someone else has had the exact same problem and left the answer for them to find. This was a big point that was conveyed at the Cloud Force tour – you need to enable your knowledge base to be available to be scraped, spidered and searched by the search engines like Google so that they can be indexed, and thus found by your customers.
As of July 2009, there are more social users than email users.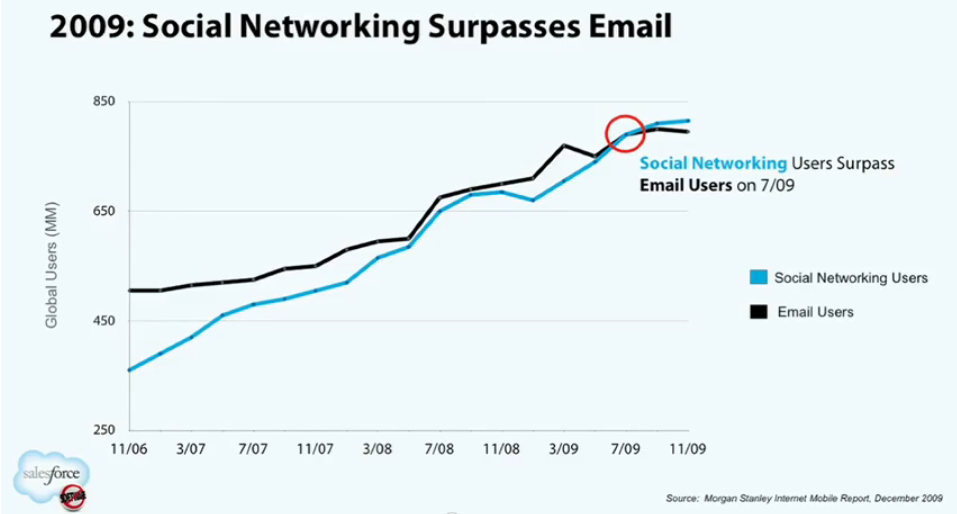 What does this mean? I believe the point Benioff was trying to hammer across is that the conversation has moved and you better recognize it and be ready. Your customers are talking (good or bad) about you on the web and your business needs to be able to tap in to this consumer dialogue, respond, and most importantly – respond on their terms. Not only can you listen and participate in these social network conversations from within Salesforce.com, with Chatter you can have your own social network native to Salesforce.com for your users.
Lastly, the internet is no longer contained to the notebook or the desktop. The iPad and the smart phone are allowing customers to interact quite ubiquitously. And why shouldn't you be able to access and use your enterprise software from a mobile device as well? You can by installing the Salesforce app on your Blackberry or iPhone. You can see your customer contacts, the Chatter dialogue within Salesforce org and even refresh your dashboards from your mobile device.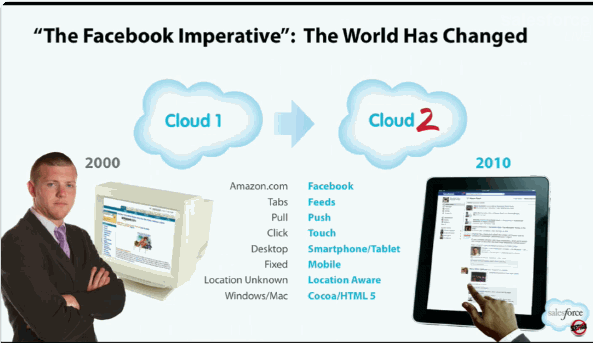 Cloud 2, in conclusions and summary, is about allowing your business software to join your customers' conversations on social media channels, providing a social channel natively inside Salesforce with Chatter, and making it all available on mobile and wireless devices.