UPDATE: In 2020 this offering was rebranded to "Digital Wealth In A Box"
In an earlier blog post we highlighted the market opportunity in wealth management for Salesforce. As we've discussed, Salesforce Financial Services Cloud (FSC) is a premium product – with an enterprise security model, robust APIs, and a massive ecosystem of third-party apps. Salesforce has been innovating for 20 years, which as you can imagine, has resulted in a proven platform that includes an enormous amount of functionality. Not surprising Salesforce is popular with businesses of all sizes, including the Fortune 50. With that mega performance comes a price point that may be a bit eye-watering for wealth management firms that are small or just getting started (i.e. single office and single digit employees). To make Salesforce more financially viable to smaller wealth management firms, the product team at Salesforce launched in October 2019 a "lite" version of Financial Services Cloud called "Grow Client Relationships Fast Start."  I'll use the acronym GCRFS at this point as the product's name is a mouthful! By the way, internally at Salesforce GCRFS is sometimes referred to as "RIA in a Box" – which is much easier to say.
How much does a Grow Client Relationship Fast Start cost and how do I buy it?
GCRFS is significantly less expensive than a full FSC license. At the time of this blog post, Salesforce has not disclosed the cost of GCRFS on their website. Additionally, of the 10,000+ salespeople employed by Salesforce, only around 100 were trained on GCRFS when it was rolled out. If you are not already working with a Financial Services Account Executive (AE), contact us and we can introduce you to an AE that has been trained on GCRFS.
The question I'm sure on your mind at this point is, being a "lite" version of FSC, what's included and what's not included in the Grow Client Relationship Fast Start License? GCRFS uses a Restricted Use License (RUL) to contractually limit the customer to certain features which allows Salesforce to offer a price point that is competitive with a lot of the wealth management "apps" in the marketplace.
Something to keep in mind as you review the list below. If you start with a Grow Client Relationship Fast Start license and your business grows to the point that you need the full feature set of Financial Services Cloud, it's a flip of the switch. Well not literally. You'll need to reach out to your Salesforce Account Executive and execute a new contract (and write that check!). Once executed, Salesforce enables the additional FSC features. Your users won't even know you upgraded until you start deploying the additional functionality.
Core Features Included in a Grow Client Relationship Fast Start License:
B2B and B2C Business Model and Relationship Groups
In Salesforce-speak, B2C (Business to Consumer) relationships are leveraging Accounts and Contacts under the covers to track your clients and household relationships (e.g. households, primary and secondary contacts, dependents and other family members, etc.). For B2B (Business to Business), it also allows you to track your professional relationships and Center of Influences (COIs) such as attorneys, insurance brokers, CPAs, or other business entities such as a company, Trust, or Foundation.
Relationship Maps
Relationship Maps are a core feature of FSC. They are similar to an org chart in that is allows you to look at a Household and see the spider-web of relationships – whether related contacts like family members and COIs, or business entities such as an employer or Trust. Relationship Maps also work well for tracking generational wealth – when dependents become clients.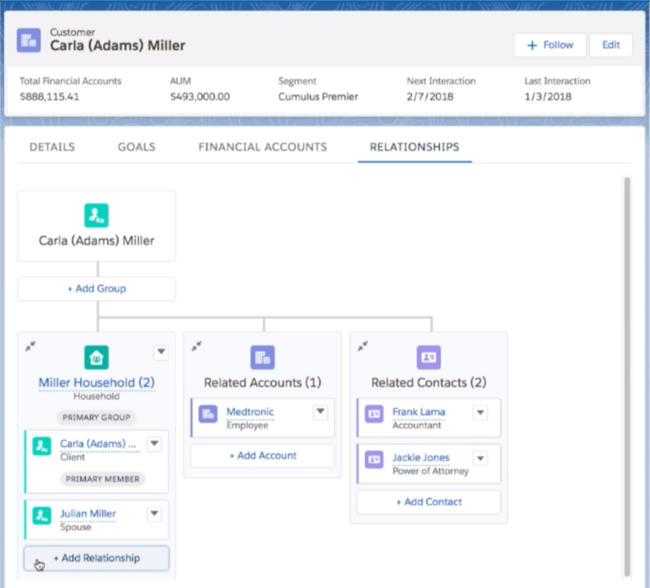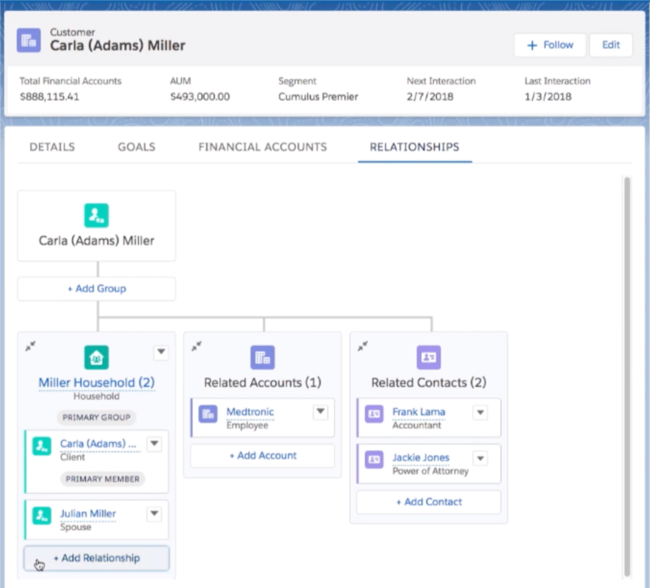 Financial Accounts and Financial Account Transactions
These "Assets" can be managed retirement accounts or unmanaged accounts like a 401k. They can be manually entered or they may be imported through a custodial integration. Broadly speaking Financial Accounts can be leveraged for brokerage accounts, bank accounts, loans, and credit cards.
Financial Goals
Manually created goals like buying a home, 529 for the kids, retirement, sale of a business, etc.
Referral Tracking
Track which COIs or clients are bringing you referrals (and more AUM!). This helps you determine the value of the relationships in your network.
Lightning Flow Automation
You can have up to five (5) automations based on Lightning Flow and Process Builder. Automations can trigger actions such as updating a record, sending an email, or assigning a task to someone on your client services team.
Cases
Smaller firms tend to use tasks to track to-dos and action items as they are quick and intuitive to use. We see Cases used more frequently when firms scale and start pooling their client resources into teams. For example, when a client service person is not assigned 1:1 to an advisor but rather they service all advisors at an office location. Cases allow you to create queues, route work, and capture more detailed information about a request. Case reporting is also more robust than activity reporting (e.g. workload by team or user, time to complete, production month to date, etc.).
Opportunities
This is where you track a potential revenue event, namely Assets Under management (AUM). Opportunities can be further segmented for reporting to differentiate AUM from a new client, or additional AUM (or wallet share) from existing clients. For example, an Advisor may come out of an annual client review and has identified some new assets to manage such as a lump sum, 401k rollover, or inheritance. This additional AUM would be tracked with Opportunities.
Leads
I'm a bit surprised that Leads are included as they are rarely used in wealth management. Leads are used for outbound marketing and sales efforts to prospect lists that have not yet been qualified. Think "dialing for dollars" and trying to determine if the person on the phone has enough AUM to be worth pursuing – not a good use of time for a financial advisor. Typically for smaller firms, COI referrals are the main channel of new clients. COIs referrals are "pre-qualified" in a sense as they understand your firm has minimums and know what type or persona or client profile is going to get your attention. For example, a COI like a CPA is not going to recommend that you meet with a recent college graduate with no assets for you to manage.
One side benefit of using Leads is a feature called "Web-to-Lead." When a prospect fills out the "Contact Us" form on your website, a Lead record can be created in Salesforce and you can be automatically notified.
Email integration to Outlook or Gmail
This is a super helpful feature. When you receive an email in either Outlook of Gmail, you can push a copy of that correspondence back to Salesforce. This keeps all your client interaction and communication in your CRM (and not in the silo of your inbox) so your staff can respond to clients intelligently. This also may be a compliance requirement.
AppExchange Apps
You'll have access to over a thousand AppExchange Apps such as DocuSign, LaserApp, DropBox, and data connectors to bring financial accounts from your custodians into Salesforce (e.g. TD Ameritrade, Schwab, Fidelity, Pershing, Raymond James, etc.).
Up to two (2) Permission Sets / (2) Custom Profiles
Custom Profiles and Permission Sets are a grouping of system and data privileges. When setting up Salesforce is not a best practice to make everyone System Administrators as users in that role can do irrevocable damage to your data. Permission Sets and Custom Profiles are typically created by a user's role in the firm. For example, you might have a Permission Set or Custom Profile for an Advisor and one for users in your Back Office or Client Services. The only constraint here is you are limited to two Permissions Sets / Custom Profiles. This is not going to be an issue until your firm scales and you start having more defined roles such as compliance officers, investment officers, traders, operations, IT, marketing staff, etc.
Reports and Dashboards
Custom Reports are available so you can create ad-hoc reports like making a client list or just to know client birthdays this month. You can leverage dashboards to track the Key Performance Indicators (KPIs) of your firm like AUM by Advisor, a pipeline of new clients, or the workload of your staff. Note with GCRFS Reports and Dashboards are based on the Professional Edition of Salesforce (i.e. it excludes some advanced reporting features).
What is not included in a Grow Client Relationship Fast Start License:
Life Events
This feature is seen a lot in Salesforce demos of FSC. It allows a user to track the major life milestones of a client such as a marriage (or divorce), birth of a child, purchase of a car or home, college, retirement, etc.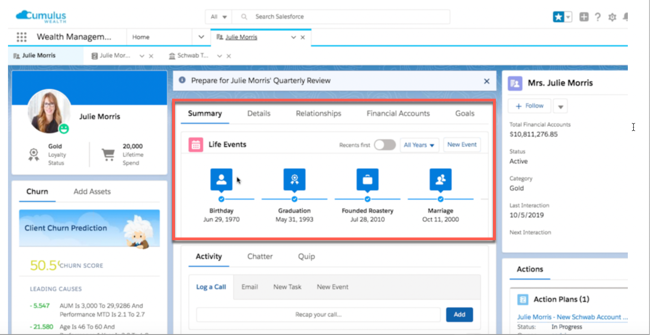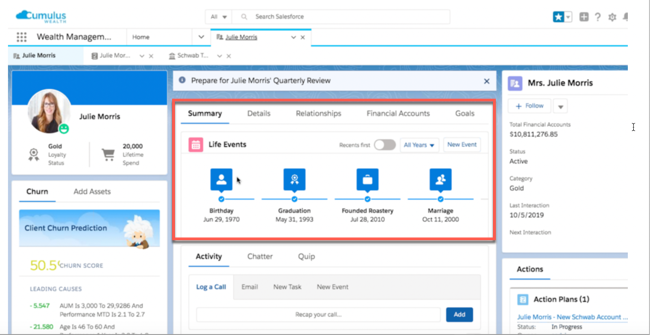 Campaigns
Campaigns are used to track the ROI of your marketing spend. A Campaign could be bringing in a special speaker, hosting an open house, email marketing, sponsoring a charity event, etc. This is not a huge need for small wealth firm as they typically don't have a full-time marketing person (or maybe even a marketing budget!).
Einstein Analytics
In my opinion, this is not a huge loss until you have a LOT of data in Salesforce. Without enough data Einstein defaults to a generic algorithm to make recommendations.
Additional Automation Tools such as Workflow, Approval Processes, and Action Plans
As your firm scales having more "tools in the toolbox" to solve problems and drive process efficiency will become more important. As mentioned above, with GCRFS you can have up to five (5) Process Builders which is a good amount to get you started.
If you are familiar with Junxure, Action Plans in Salesforce are the closest equivalent to an Action Sequence in Junxure. Action Plans are a sequenced grouping of steps and they are frequently used to manage the process of onboarding a new client.


Mobile
A bit surprising this is not available as having your CRM on your phone is very helpful. I guess the thought is the majority of the time your client interaction will be based in your office. If you are on the go, you can always use a laptop as long as you have internet connectivity and a browser. So, if you work from home you're covered!
Email Templates
This was a head scratcher as email templates can be useful when responding to clients via email in Salesforce. You CAN send an email from Salesforce with GCRFS, you just can't jump-start the correspondence with a template (which reduces "copying and pasting" content from other emails and re-writing the same correspondence over and over). Templates can have predefined mail merge fields (e.g. client's first name, the sending user's contact information, etc.), the subject line and the body can have prewritten text and you can have attachments pre-saved to the email (such as a pdf of instructions or disclosure letter).
High-end call center features
For example: Entitlements, Omnichannel, Live Agent, SOS, Surveys, etc. I won't expound on these features as they would not be applicable to a small wealth firm.
High-end sales features
For Example: Lead Assignment Rules, Territory Management, Account Teams, Opportunity Splits, CPQ, Quotes, Products, Contracts, etc. Again, features not used by small wealth organizations.
Are you a good fit for Grow Client Relationships Fast Start?
If you would like to know if you are a good fit for the Grow Client Relationships Fast Start product and the cost to implement the solution, please contact us. We have the full list of features (and gotchas!). Additionally, because we have implemented Salesforce for more than 100 wealth management firms, ShellBlack is one of only three partners to have been selected by Salesforce to deliver the Grow Client Relationships Fast Start solution.