Consultants at ShellBlack work with many clients in Financial Services Cloud (FSC). With a few small customizations to this robust platform, our certified Salesforce consultants can make information clearer and easier for the end user to identify. Here are five of our favorite frequently used customizations:
1 — Reduce Reciprocal Roles duplication
Households can have relationships with businesses or people who don't live in their household. Salesforce has Reciprocal Roles for these relationships, and several are already included in FSC. Additional roles can be added, however — which can cause issues when someone entering a new reciprocal relationship isn't sure what to call it or spells it wrong. FSC will allow that new relationship and add it to the list of Reciprocal Roles, even if it duplicates an existing relationship. This leads to a long list of roles you don't want and creates dirty data, especially for reporting.
Our customization stops the user from adding the new relationship if one already exists, prompting the user to pick from an existing list instead of adding another relationship that is misspelled or called something slightly different.
In the following example, a financial advisor is trying to add Christina's CPA to her Household as a Related Contact.

When the advisor tries to save the new contact the advisor gets a warning that this role already exists and is prompted to click on the link to view the duplicates.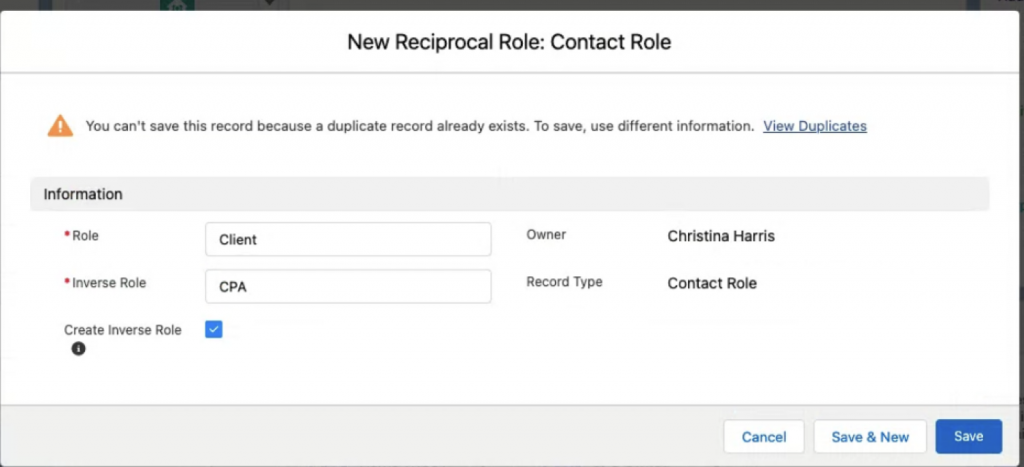 The advisor then selects the Reciprocal Role that already exists.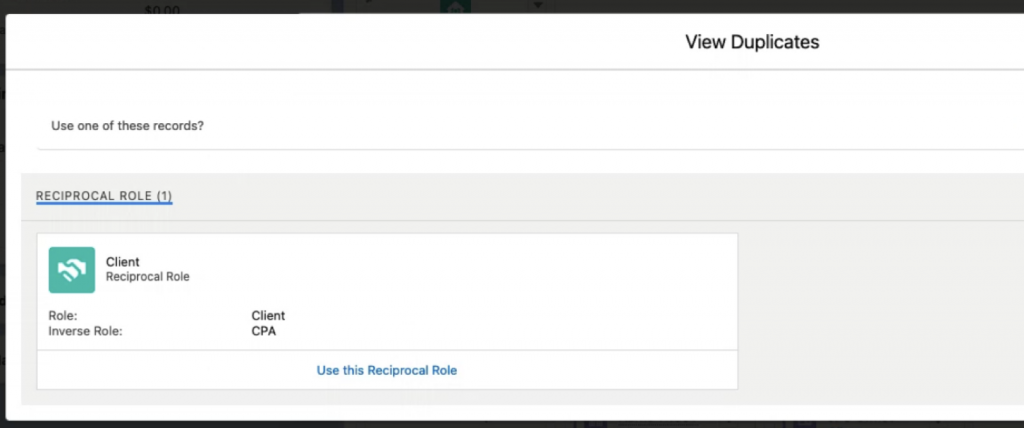 In the image below, Christina's CPA is shown in the Relationship Map as one of the Related Contacts.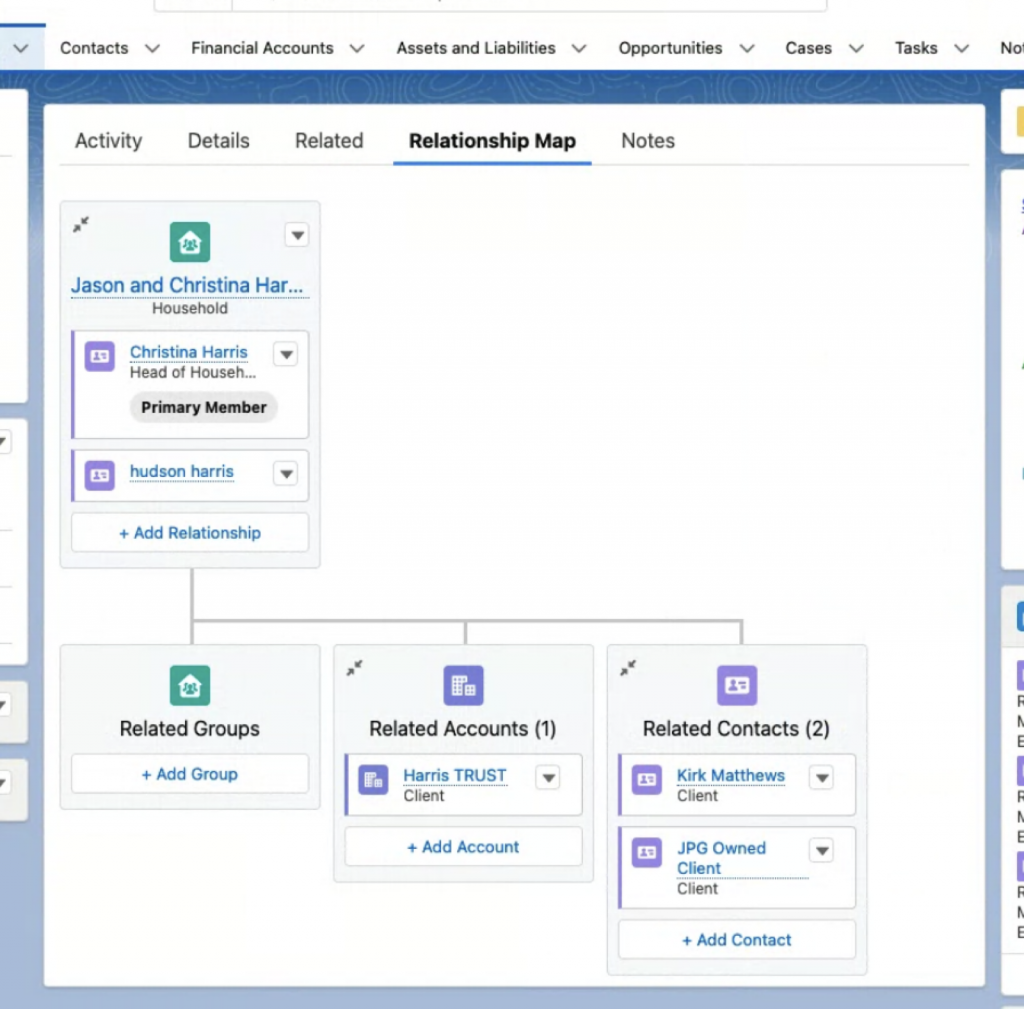 2 — Icons for Person and Household account record types
This icon-based customization is just fun and makes it quick and easy to identify different record types at a glance. These icons also show up on the Account Detail.
icons
3 — Primary and Secondary roles 
This customization manages the naming convention of Households in FSC by Primary member and Secondary member of the household. The default is LastName Household. But how many households have the same last name? That can be confusing. This changes the Household naming to PrimaryFirstName and SecondaryFirstName LastName. It also creates new fields for Primary and Secondary Contacts.
In the example below, we are adding Preslyn as the Client and Secondary Contact in Hudson's Household and making it her Primary Group.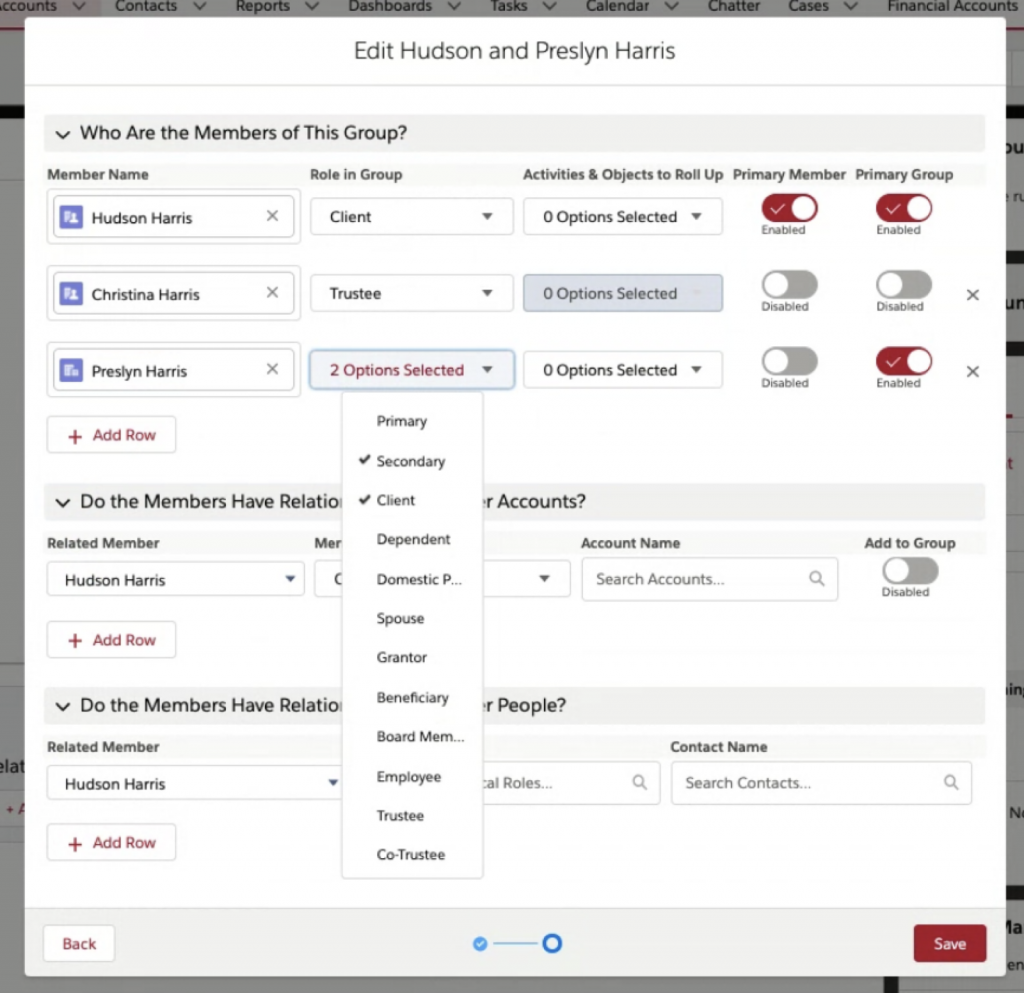 Presyln rolls to Hudson's Household and becomes Hudson and Preslyn Harris. That makes it much easier to find the correct Harris Household! It also saves the advisor some clicks and makes reporting easier.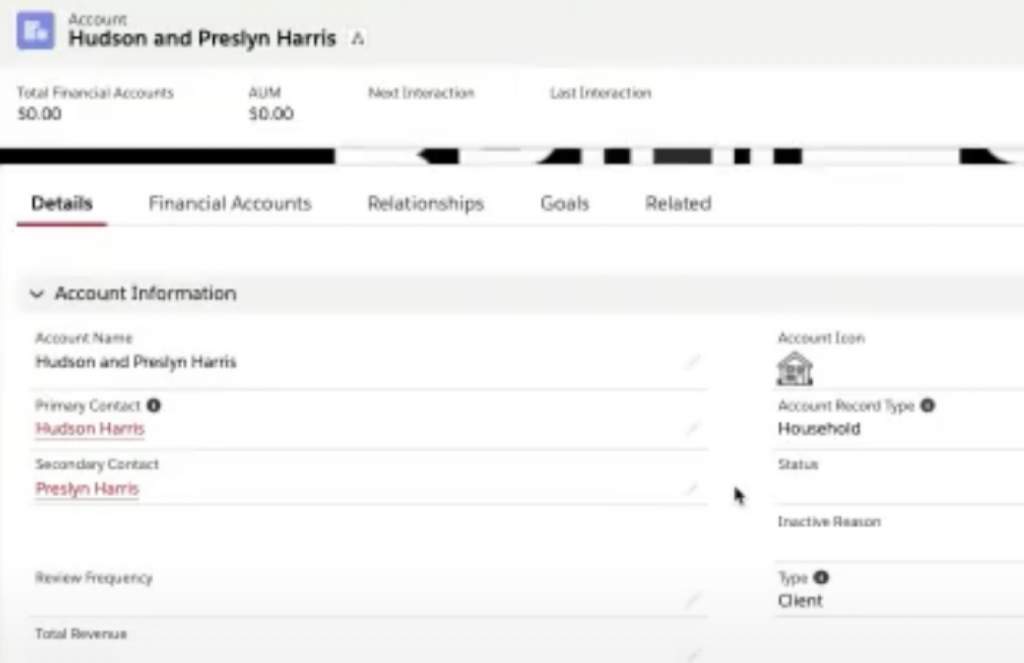 4 — Using Assets and Liabilities to track family loans
Assets and Liabilities functionality usually tracks assets like homes or cars, as well as other assets that aren't financial accounts. Liabilities would be car loans or debt of some kind. This customization adds the ability to track loans made to family or friends. A wealth manager has clients who frequently make loans to family members and want to track the asset going out and payments coming back in. With a few additional fields added to the record page, advisors can easily track loans for clients.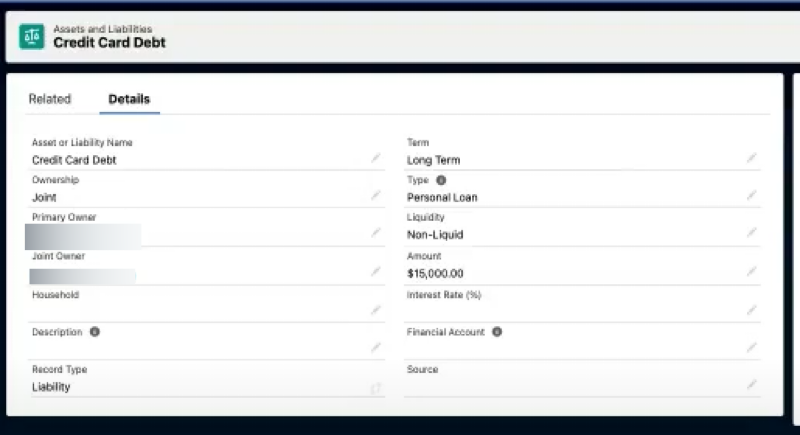 5 — Alerts on Household or Person accounts
When a client calls their financial advisor to say their Social Security number has been compromised or to let them know they'll be out of the country for a month, how does the advisor let the rest of the team know? Instead of putting that on a sticky note or sending an email to the whole team, this customization creates an alert on the Household or Person account so that anyone who views the client's record in Salesforce will see this important information.  

Add Alerts to the page layout, then add the Related list for alerts, click on New Alert, and add the message to display. Add any additional information and set the Severity. That picklist can be relabeled for your use case. Phishing emails are a big concern in Financial Services — so knowing that the client's email has been compromised or the email asking for a withdrawal can't be from your client because they are traveling and unreachable is a valuable way to help protect their interests. Or perhaps your client is elderly and their Power of Attorney is the only one who can discuss their accounts. The alert above the client's Details information on their record is a good reminder. These notes can be added to the Household and Person Accounts.
Small things can make a big difference for users in Salesforce. Contact ShellBlack for customizations that make Financial Services Cloud easier for your organization to use.
Author Credit:
Lisa Kilmer CFP© Salesforce Consultant at ShellBlack.com
Content Contributed by:
Christina Harris Director of Data Services at ShellBlack.com