At this point you should be on the Winter 13 release of Salesforce.com and you can start checking out one of the most anticipated new features – touch.salesforce.com, or "Salesforce Touch" as it is referred to in help. I say most anticipated because it was announced last year at Dreamforce '11.
The number one question I've been hearing from our clients – "How do I get it and how much does it cost?"
Answer: it's free, available on all editions, and you enable it with a click of the mouse.
You turn on the interface in Setup > Mobile Administration > Salesforce Touch > Settings.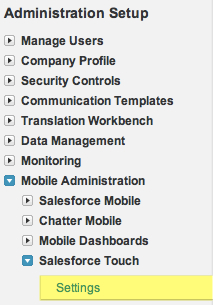 One important thing to note – you can't enable it unless you also have Chatter enabled (I'm sure there were a couple of groans out there on that bit of trivia).
After you enable it, you'll see a new checkbox on the User record accessible from Setup > My Personal Information > Personal Information

Uncheck that box and users will not be directed to the new user interface but will access Salesforce straight from a browser, just like they always have from a tablet or mobile device.
Other things to know (at least in it's current iteration):
There is no Home Tab (and therefore no "Recent Items") – you see Chatter when you first login
It does not support Custom Applications – it only supports the native Sales app
You can access Custom Objects (if included in the Sales app tab set)
You can't access Dashboards – yes, you read that right
You can't post a file or link to Chatter
And the big one: the current release only supports the iPad – NOT the iPhone
Also once you're in touch.salesforce.com there is a FAQ and it's worth flipping through it to understand the interface and features.
UPDATE – Spring '13 Release
The product continues to evolve and some of the initial liitations have been addressed. Please see the Spring 13 Release Notes for more detail, but here is a quick rundown of the Touch enhancements in this release:
Chatter no longer has to be enabled to use Salesforce Touch
You are no longer limited to just the out-of-the-box "Sales App" (all custom and standard apps are supported)
Cases, Leads and Person Accounts are now available
Dashboard and Visualforce tabs are now supported