One of the most insightful annual industry surveys published on the technology used by Wealth Management is theT3/Inside Information Advisor Software Survey by Joel Bruckenstein and Bob Veres. All tables and graphics in this post are from this survey. Published in February of 2020, the survey is 47 pages of technology vendor market share goodness. For this discussion we're only going to focus on the first ten pages or so of the report and the information around CRMs used by wealth firms. As a side note, we've attended the T3 Advisor Conference in the past, and we certainly enjoyed our time in the expo talking to many of the technology partners highlighted in the survey. In full disclosure, ShellBlack is a Salesforce implementation and consulting partner.
Demographics
Like last year's survey, there were more than 5,000 responses with a good cross section of revenue and years of experience.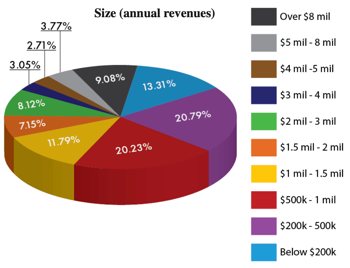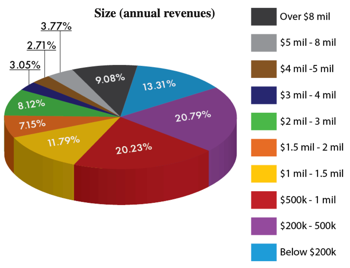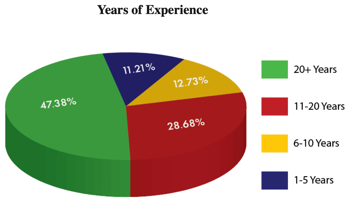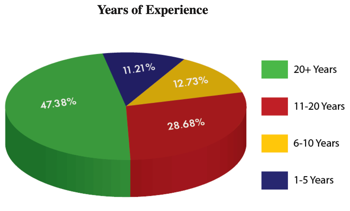 If you are trying to translate revenue into Assets Under Management (AUM), remember that advisors charge ~1% AUM fees.
CRM Market Share
RedTail continues to be the only CRM with double-digit market share, and at 62%, still commands a huge lead over its rivals. Wealthbox moved up in the rankings from #4 in 2019 to #2 – not bad for a company founded in 2014. Concenter Services' XLR8 had the highest satisfaction for the second year in a row, which is impressive for their size.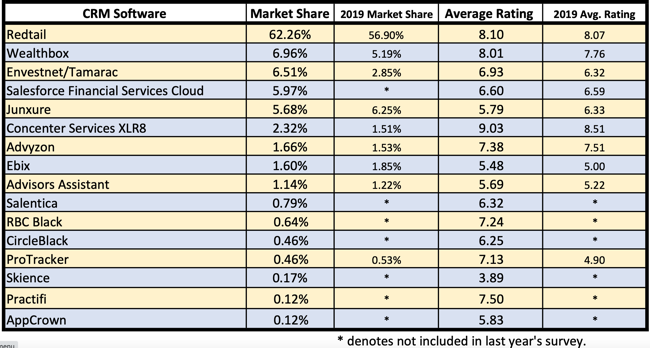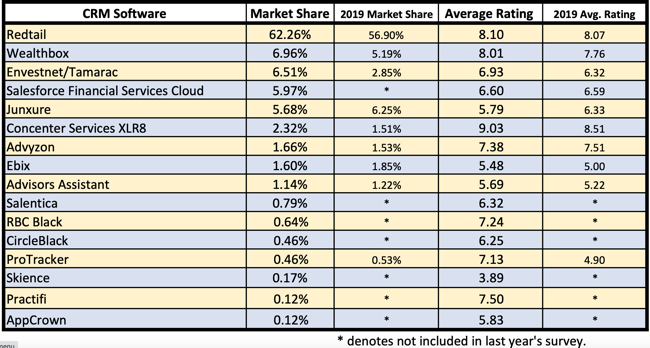 This year the survey broke Salesforce Financial Services Cloud (FSC) out separately for the first time. That's why calculating a net change compared to the 2019 survey is not possible, however generically (i.e. not FSC specific) Salesforce ranked #2 at 8.01% in the 2019 survey. If you didn't know, Financial Services Cloud is an industry specific solution targeted to Wealth Management, Banking, and Insurance built on Salesforce Lightning (the new generation user experience). FSC has a dedicated product team and new functionality is released three times a year.
Note that in the table above that AppCrown, Skience, and Concenter Services XLR8 are built on Salesforce. Salentica has two versions of their CRM, Salentica Elements which is built on Salesforce and Salentica Engage which is built on MS Dynamics.
Good News for Salesforce
When respondents were asked which CRMs they are considering, Salesforce was number one.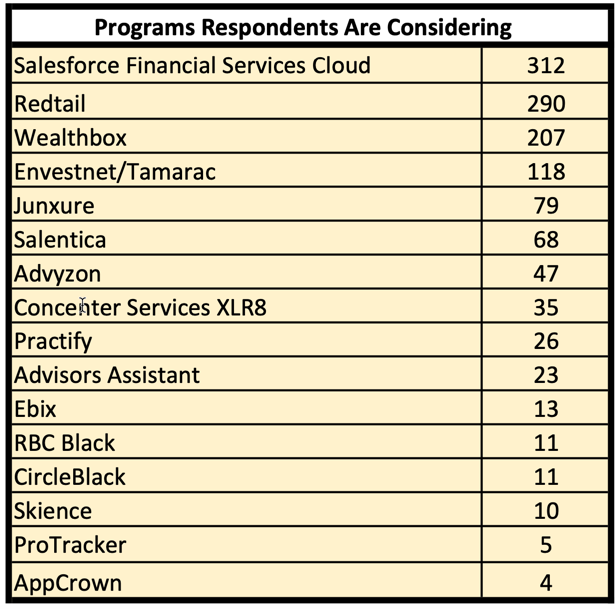 I'll chalk this awareness up to the Salesforce marketing machine and the hundreds of Account Executives (salespeople) that support the Financial Services vertical.
Looking Deeper Into Market Share
Looking at the table below, you can see some trends. Redtail's market share starts to decline with larger firms, and generally, Junxure, Envestnet Tamarac, and Salesforce gain share.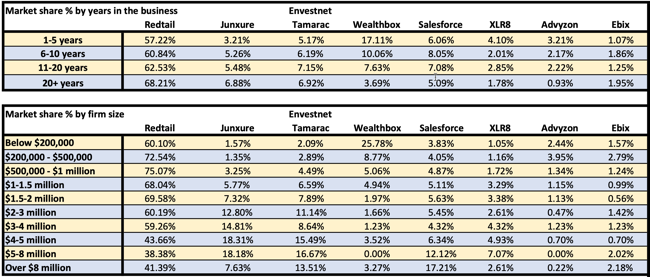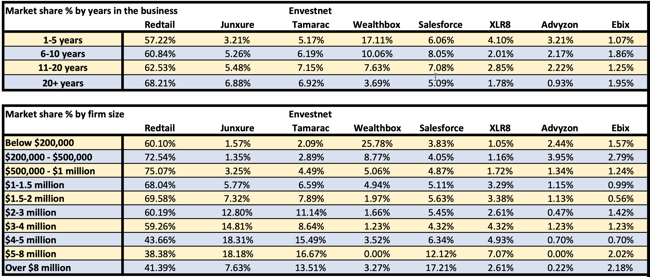 This is not surprising as Junxure, Envestnet Tamarac (built on MS Dynamics), and Salesforce have enterprise security and therefore can handle the complex security requirements faced by larger firms with multiple offices, or those that pool their back office or client services. Being an app rather than a platform that you can use to build out additional functionality as you grow, Wealthbox does exceedingly well with small firms just starting out.
Why CRM Matters
Nearly 52% of the responses chose CRM as the most valuable technology used in a wealth office.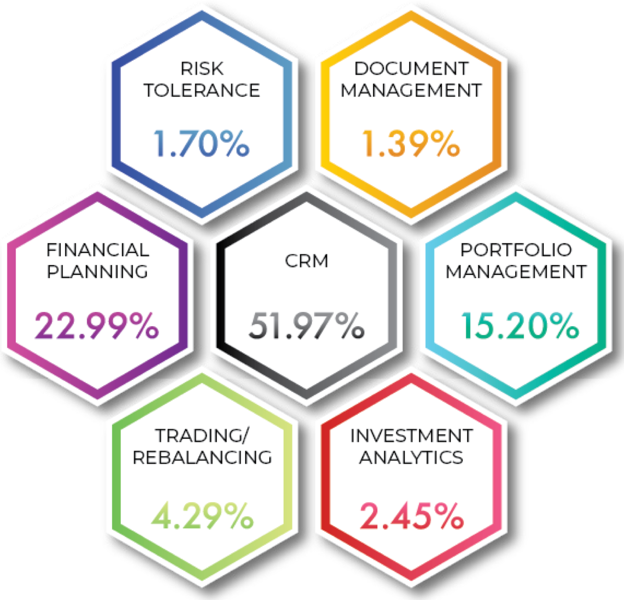 I think the survey explains this result best: "CRM is not only the hub of many advisory firms' tech stacks, but it is also their primary marketing tool and the repository of the personal information need to maintain and enhance client relationships." CRM, if used well, should be the firm's "source of truth" for what you know about a client, and their relationship value.
If you are contemplating implementing Salesforce for your organization, please contact us. We've implemented Salesforce for more than a 100 advisory firms, so be sure to leverage our vast experience migrating the most popular CRMs for wealth management.