On Monday November 18, 2019, Salesforce invited media guests to the Salesforce Tower to reveal news and product announcements on the eve of Dreamforce. On the forefront of my mind was if the acquisition of Tableau was in fact completed. In case you missed it, Salesforce announced their acquisition of Tableau on August 1, 2019 for $15.7 Billion. However as of last month, it was still not complete due to UK antitrust regulators scrutinizing the deal.
Acquisition Growing Pains
I was also curious to see if Salesforce had addressed some of the assimilation issues that we've seen in past. After the $2.5B ExactTarget acquisition in 2013 (now rebranded as Marketing Cloud) there were a lot of growing pains felt in the Salesforce ecosystem. After the purchase, Salesforce had two marketing automation platforms, that if you drew a Venn diagram, you'd see a lot of overlap in functionality. Inside Salesforce you also had Account Executives (over 10,000 of them by the way) that needed to be trained and learn how to correctly position the offerings. Additionally, you had product specialists on the sales side, that on occasion, were pushing two different solutions to the same customer – causing infighting and confusion. It took some time, but Salesforce defined rules of engagement to keep teams "in their lane."
On the implementation side, integrating Marketing Cloud and Salesforce was difficult. Marketing Cloud is built on Microsoft technologies, which makes Marketing Cloud's move to Azure seem logical, while Salesforce's core database for years has been based on Oracle. Early adaptors to Marketing Cloud, and implementation partners, felt a lot of pain as it was not a seamless experience. Salesforce got the kinks worked out, but customers that were first in line had a rough time.
Lastly, an unforeseen issue of the ExactTarget acquisition was the vacuum of Marketing Cloud talent that we're just now seeing some relief (it's been 6 years!). Once you have the Salesforce army of 10,000+ salespeople selling a new product it takes years for the ecosystem to catch up. Demand absolutely outpaced the supply of talent. As a Salesforce implementation and consulting partner, I can tell you we've seen this first hand. Talent shortages drove crazy salaries for Marketing Cloud consultants, which drove up implementation costs for customers.
All that preamble is to say I'm very curious how Salesforce will position Einstein Analytics against Tableau. Einstein Analytics started as an acquisition, became Wave Analytics Cloud, and had been continued to be developed by an internal product team. In the past Salesforce pushed Einstein Analytics as a viable Business Intelligence (BI) option against Tableau, though looking at Gartner's magic quadrant, you can see other products seem to be more mature and Salesforce is playing catch up.
Going into the media briefing, some questions I'd like to have answered:
When will Salesforce complete its acquisition of Tableau?
How will Salesforce position its two BI tools to customers?
Will Salesforce continue to invest in Einstein Analytics?
Being that Tableau is offered on premise, how with that impact integrations with Salesforce?
How will Salesforce ramp the ecosystem (i.e. implementation partners and Tableau talent) once the Salesforce sales machine kicks in to high gear?
Media Event Agenda:
11:45 AM-12:35 PM – Media Lunch
12:45-1:30 PM – Customer Fireside Chat: Leading in an Age of Digital Disruption with Engie, Frito-Lay and Arizona State University. Simon Mulcahy will moderate the session
1:45-2:30 PM – Tableau overview, demo and Q&A session
3:00-4:00 PM – Dreamforce News Conference and Q&A
I'm in the tower!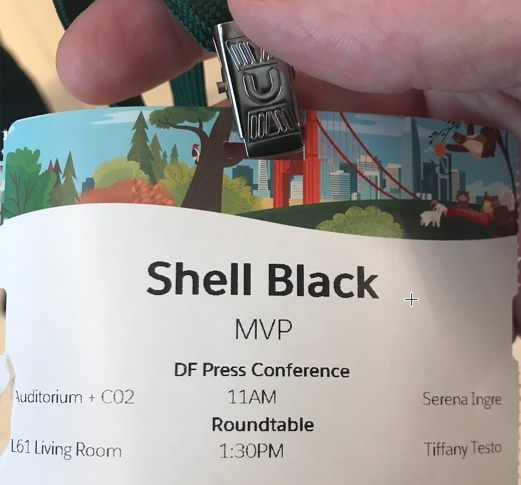 11:50 AM
Breaking news! Seated in the auditorium in the 3rd floor of the Salesforce Tower. As I login to the guest WiFi I see the press release that Salesforce completes its acquisition of Tableau – well, that answers that question!
The press core looks thrilled….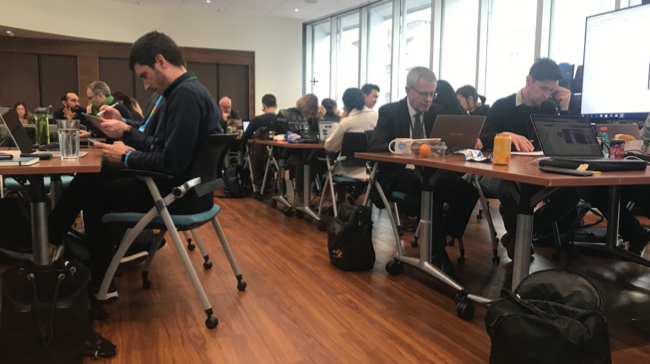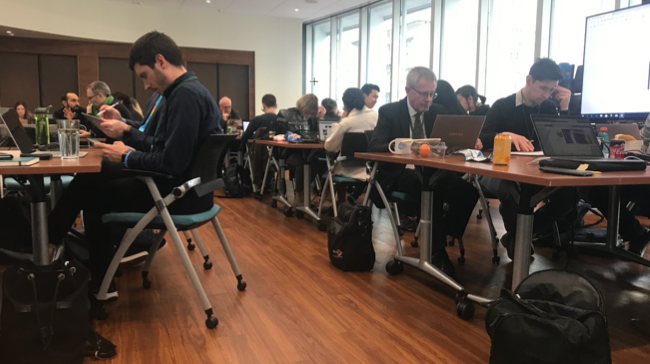 12:45 AM
Doors closed! Fiona Williams, Public Relations EMEA, kicks us off. 100 international media representatives are present. She reviews the key events at Dreamforce for the week and the agenda for the afternoon.
Simon Mulcahy, Chief Innovation Officer @simonmulcahy is up next. His comments start by saying Salesforce is not a traditional software company, but partners with their customers to enable innovation. He introduces the panel.
Michael Lindsey SVP, Chief Transformation& Strategy Officer – Frito Lay
Yves Le Gelard – EVP, Chief Digital Officer – Engie
Donna Kidwell – Chief Technology Officer – Arizona State University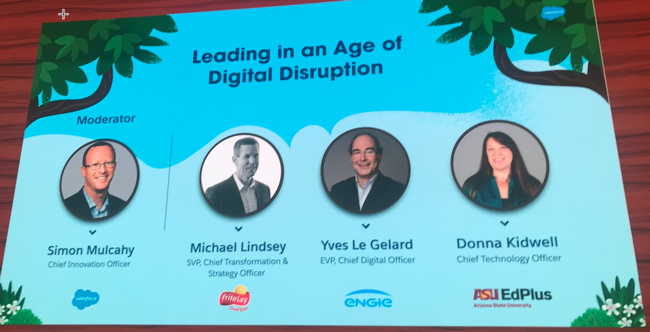 Michael shares some staggering facts about the logistics to deliver their brands to consumers. He highlights how old systems have to mature to meet the demand of new consumer preferences and channels (e.g. online).
Yves talks about need to reinvent themselves due to climate change. In the past they were the problem and today they want to be part of the solution (e.g. sold off coal and pivoted to the sun and wind). In the past the mindset was sell as much power as you can. Today the mindset is to help customers use LESS energy.
Donna discusses how learners want the right information at the right time. University experiences have changed – lecture halls have been replaced by devices. Education is challenged to compete against non-traditional channels such as Google and YouTube.
Simon ends with the comment that businesses are changing faster than ever and the pace of change is accelerating. The end customer has a voice and wants to be in the center. The mantra of "build it and they will come" is no longer true. Today the challenge is to continue to keep the attention of the customer.
1:50 PM – After a 15-minute break, we get started on Tableau
Mark Jewett, VP of Product Marketing – Tableau
Tableau's mission: "We help people see and understand data." Tableau's fundamental premise is that a business person should be able to ask questions of the data. Tableau is a platform that can connect to 85 data sources. Tableau supports natural language, has AI features, and includes innovation around data management.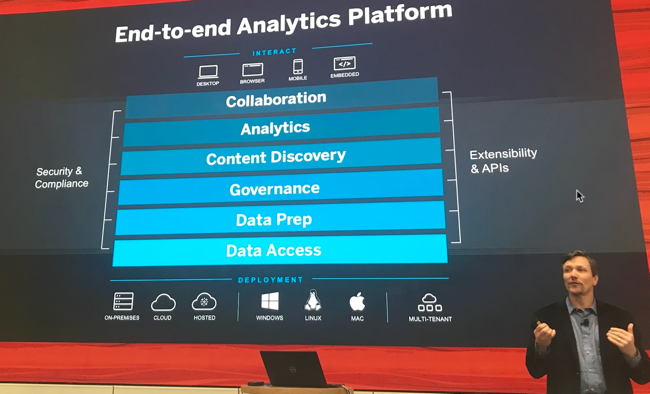 Tableau says there are 1 million members in their community. "There is a viz for that!" Tableau public is the biggest data sharing site in the world: 750K authors, 2M visualizations, 2Billion Views. There are also over 500 user groups in 65 countries. This is great news for the Salesforce ecosystem (see my rant and question above).
Tableau joins other Salesforce products
Tableau is an enterprise platform for broad deployments and connects all your data. Einstein, by being embedded into Salesforce, is better aligned for Sales and Service use cases. Datorama connects and makes sense of the marcom data.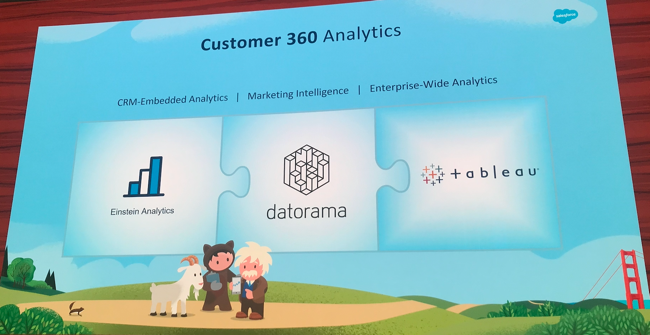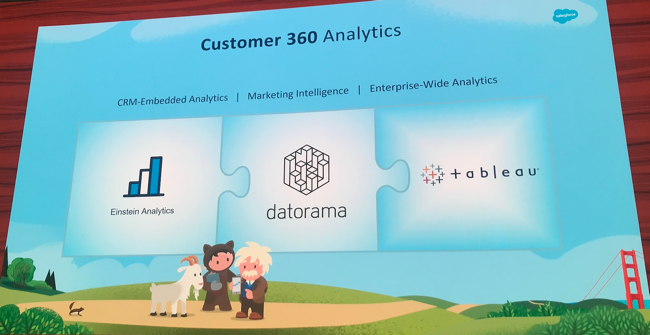 2:20 PM – Q&A with Andrew Beers, Chief Technology Officer (employee # 7)
I had to paraphrase this live Q&A a bit…
Q: Someone asked about Microsoft as a competitor.
A: They pivoted this and said they are a partner.
Q: How do you maintain data trust?
A: A lot of their customers run Tableau on premise. In those instances customers can encrypt the data. For the online version, they offer that capability, but their data is kept separate from other customer data (sounds similar to multi-tenant approach that we see with the Salesforce platform).
Q: What has changed with the Salesforce acquisition?
A: Salesforce has a big vision for digital transformation and they want Tableau in the roadmap. At the end of the day they think it will be better for customers.
Q: How has the dialogue been going between the company's technical teams?
A: Still early days. Legally they couldn't interact until very recently.
Q: How do you differentiate the tech between Salesforce Einstein AI and Tableau AI?
A: A lot of Tableau's AI algorithms are different than Salesforce (from what he understands today Einstein is more machine learning). Tableau is more general and less operational.
Q: (Asked by Salesforce MVP Nana Gregg @nanahg3) How do you bring the Tableau and Salesforce communities together?
A: Tableau says the are a participant and a sponsor of their community, but not an owner. They want it to be organic. They are looking at Trailhead and MVP program.