Is Dreamforce Back?
That was the big question for me months ago as I registered for Dreamforce, made hotel reservations, and booked my flight. Rumor was that the conference would be constrained to 30,000 attendees, partly because the service industry in San Francisco had not fully recovered from the pandemic. Who would be attending? Would it be admins who have been patiently waiting for years to attend their first Dreamforce conference, or decision makers eager to get back to the annual gathering? All I could do was hope for the best and click "buy."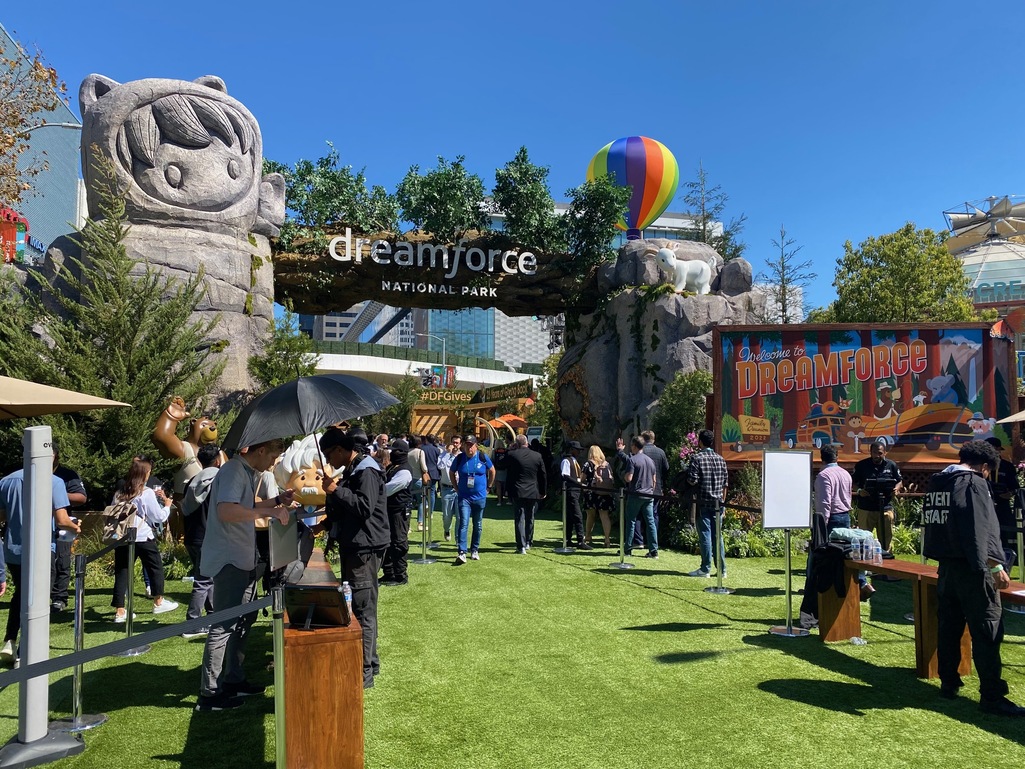 Main Keynote
The must-attend session of Dreamforce is always the main keynote. As a Dreamforce veteran, I knew to start queuing up at least 90 minutes early — and not to load up on coffee beforehand! I would be sitting for hours, as the keynote always runs WAY past its allotted time. Thanks to my status as a Salesforce MVP, I was fortunate to be seated up front by the main stage.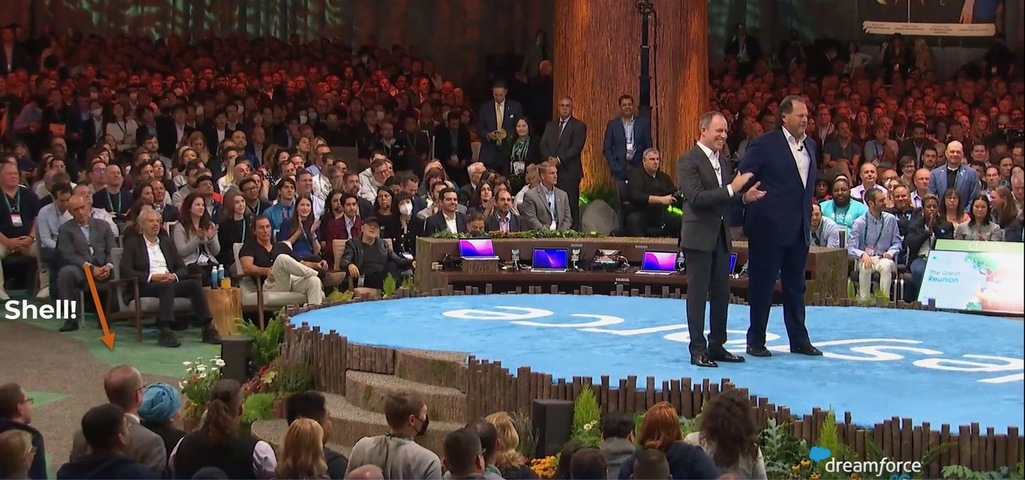 This year, Dreamforce Co-CEO Bret Taylor co-hosted the keynote alongside Marc Benioff. Marc is still the ringmaster — displaying endless energy and enthusiasm. He carried the messaging that is close to his heart, namely the local San Francisco community, philanthropy, and the environment. Brett came across as a veteran and was very poised, kicking off the product showcases for other Salesforce executives to present. Notably absent on stage was co-founder Parker Harris. He was there on the front row and was recognized, but he did not lead any of the presentations. We were wowed by plenty of Hollywood-grade videos reinforcing our connections as a family of Trailblazers.
Numerous press releases went live during the keynote, so I won't attempt to recap those for you here, but they're worth reviewing to catch up on the latest announcements.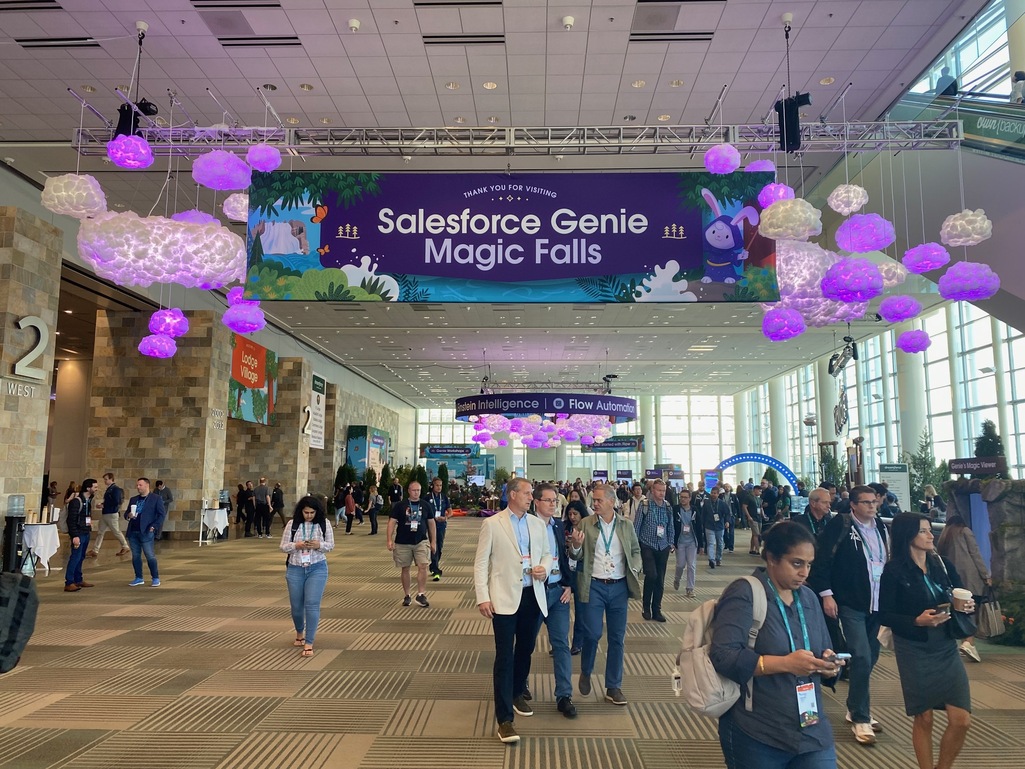 I chose my agenda based on ShellBlack's focus on the financial services industry, limiting my attendance to the following FINS sessions: Financial Services Keynote, Financial Services Cloud Roadmap, and How to Win With Wealth and Asset Management.
Financial Services Keynote
This session was at capacity. Literally hundreds of people who were queued for the event could not get in. Some highlights (or claims) from the keynote:
Genie can handle billions of transactions to create a "beautiful golden customer profile" all while "delivering magical experiences."
Integrations for Financial Services Cloud are available now for FIS, Fidelity, and Schwab. "Our APIs talk the language of financial services."
In my opinion, there was not much substance to the keynote. The messaging was heavily marketing-driven and was targeted to very large financial services customers (i.e. enterprise and strategic customers).
Financial Services Cloud Roadmap (Session)
This was another disappointing session. As we filed out the back door, you could hear multiple attendees murmur, "Where was the roadmap?" I have to agree — I felt like I was the victim of clickbait. Some of the features that became GA (generally available) this summer were highlighted, but everything else discussed was framed as, "This is on our radar" or "We're working on this," but no time frames were given. All you could conclude was that topics presented may see the light of day, or not, or Salesforce could change their mind altogether.
How to Win With Wealth Management and Asset Management (Session)
This panel session was moderated by Michelle Feinstein, GM/VP Global Wealth & Asset Management for Salesforce. Michelle was also seen carrying the torch for Salesforce at the T3 Conference earlier this year.
Michelle did a great job setting the table for the panelists by summarizing the challenges facing wealth firms today:
Customer expectations — trying to meet the needs of five generations of investors, all with varying degrees of comfort with technology.
Advisor experience — advisors can work with up to 20 different systems in one day.
Race to efficiency — something we hear from our clients every day; more automation is needed.
Change is not easy — firms are trying to unwind old technical debt so they can adopt new technology.
The panel consisted of Greg Beltzer, Head of Technology at RBC Wealth Management; Erin Scott, Director and Product Owner Salesforce, Columbia Threadneedle Investments; and Marissa Herr, Vice President and Head of Technology Consulting at Fidelity Investments.
Greg was the star of the session. I hope he's getting free licenses in exchange for all the licenses he sold for Salesforce at Dreamforce this year. Why? RBC Wealth Management is actually spending the millions of dollars each year needed to pull off the vision that Salesforce paints for its customers and prospects. Some nuggets gleaned from Greg's comments:
RBC tackled their MDM (master data management) strategy first, before their CRM initiative. With 26 systems, they needed MDM in place to know, for example, which was likely the best phone number for a client.
RBC is using Mulesoft to access useful information that was not readily digital.
When starting their CRM initiative, RBC focused on three audiences — advisors, staff, and management.
The job market is competitive — you need to show candidates that you are doing cool things to attract talent.
RBC releases functionality every three weeks. This provides instant gratification, but now they are seeing some release fatigue as they are deploying functionality faster than their constituents can consume it.
Old CRM adoption was 61%. It is over 95% today, partly because you need Salesforce to do your job. They are using Walk Me to embed training inside Salesforce.
They built their own Money GuidePro integration so they can have goals and plan information available on the household record.
They are careful with marketing automation. For example, they could look to see if a financial account was missing a beneficiary and kick off a marketing journey, but they have to be careful not to alienate their advisors by failing to involve them in decisions.
When Greg showed the slide "RBC Advisor Desktop," there were audible oohs and aahs in the room.
Conclusion — Dreamforce Is Back (or at least it felt like it)
This year was the 20th anniversary of Dreamforce. 38,000 attendees is not insignificant, but it pales in comparison to the 150,000 attendees of past events. Salesforce did a great job of creating the appearance of a jam-packed event — mostly by limiting the footprint of the event tightly around Moscone Center rather than spilling over into a "campus" of neighboring hotels as in the past. Salesforce claimed 1,000 sessions, but I would attribute that to a lot of creative liberty (like "fireside chats" and repeating product sessions that went on all day). Additionally, the event was three days this year rather than four, further compressing the event.
Next year, I suspect Dreamforce attendance will be double or triple what we saw this year. Though Dreamforce would be better served by a city like Las Vegas, Ringmaster Marc Benioff will never let it leave San Francisco.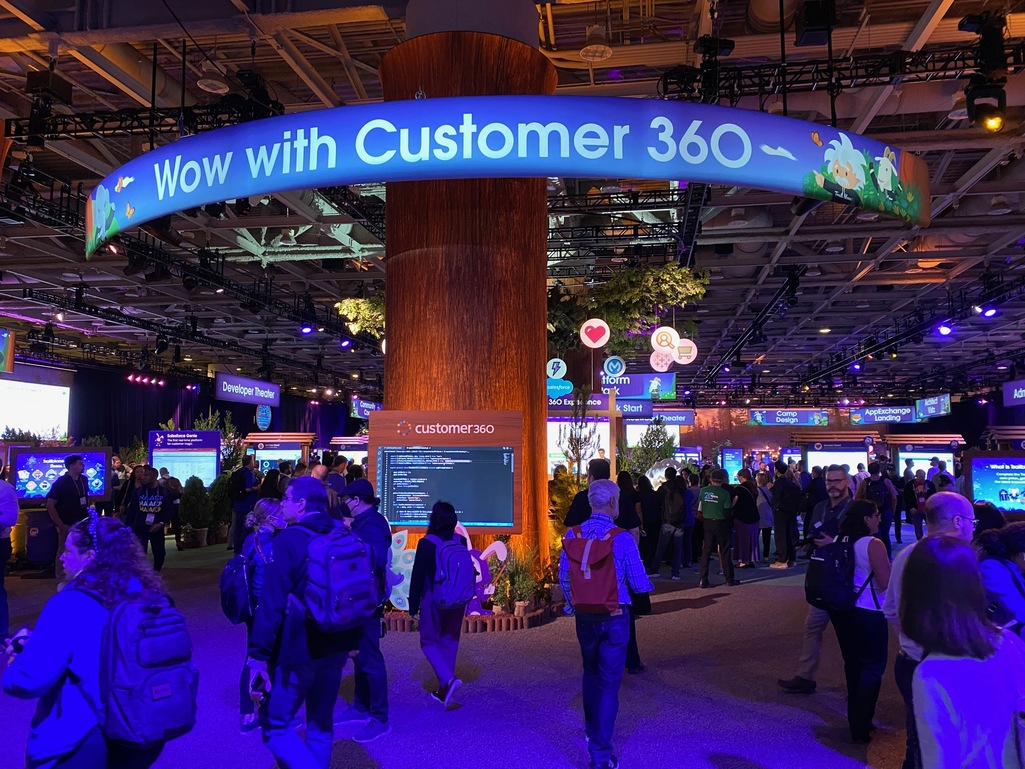 Author credit: Shell Black – President and Founder of ShellBlack, Salesforce MVP