As discussed in a prior blog, using Salesforce case management functionality to service client requests is relatively easy. Because Cases function as process-driven objects, they are flexible and can accommodate many different types of client service requests (such as change of address, death of a client, or compliance-related requests).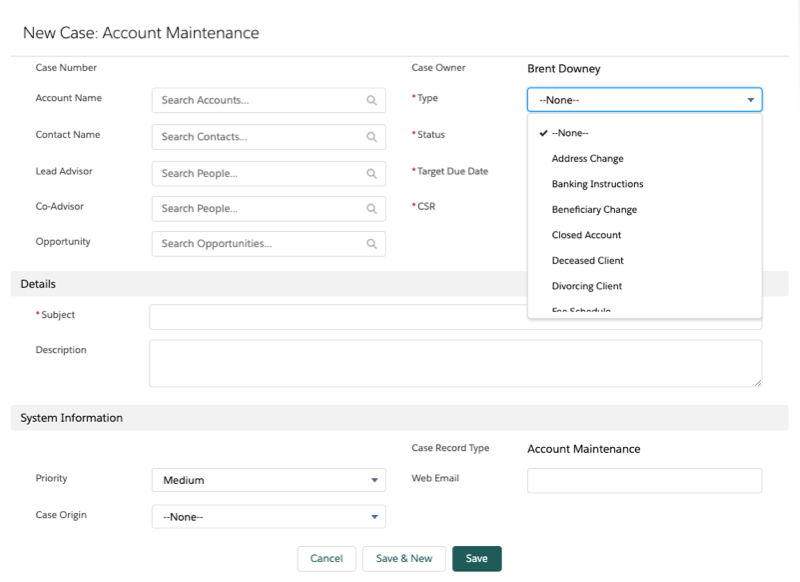 However, not all processes are straightforward, and some organizations require multiple steps that could make the user experience confusing and cumbersome. Just providing the advisor or back-office staff with a list of options may not offer enough context to make the proper selection, which could result in decision fatigue, inefficient process execution, and dirty data. To help combat these issues, ShellBlack created the Business Process Launcher Accelerator.
Business Process Launcher
ShellBlack's Business Process Launcher offers users a guided approach to creating Cases with visual context along the way, to ensure that the proper service request type is selected for a given process.

Using the native architecture of the Salesforce Case object, our Business Process Launcher adds a user interface (UI) layer to the Case creation process. This provides the user with instructions, the ability to navigate backward if needed, and configurable field defaults to support a given process.
The Business Process Launcher is a fully configurable Accelerator that adapts to your business processes. We leverage custom metadata in Salesforce to control elements of the UI. Once your Case records have been defined and well organized, custom metadata is configured to create the look and feel of the launcher, including:
Record Type and Type assignment combinations
Icons and colors for Record Types and Types
Display order
Predefined instructional text
Preference to auto-open the case at creation
Defined fieldsets by Type of Case
How It Works
Let's take a look at the steps to create an Address Change Case on a client household. The user creates a new Case record from the Household and is presented with the Business Process Launcher's menu of service request categories. In this scenario, the user selects Account Maintenance to proceed.

The user is then presented with all available processes within Account Maintenance. Each process Type can be customized with a description, icon, and color to provide rich context to the user. The user selects Address Change and is presented with a data entry form that requests specific data points needed to complete the request as well as any relevant instructions — all of which are configurable by a System Administrator.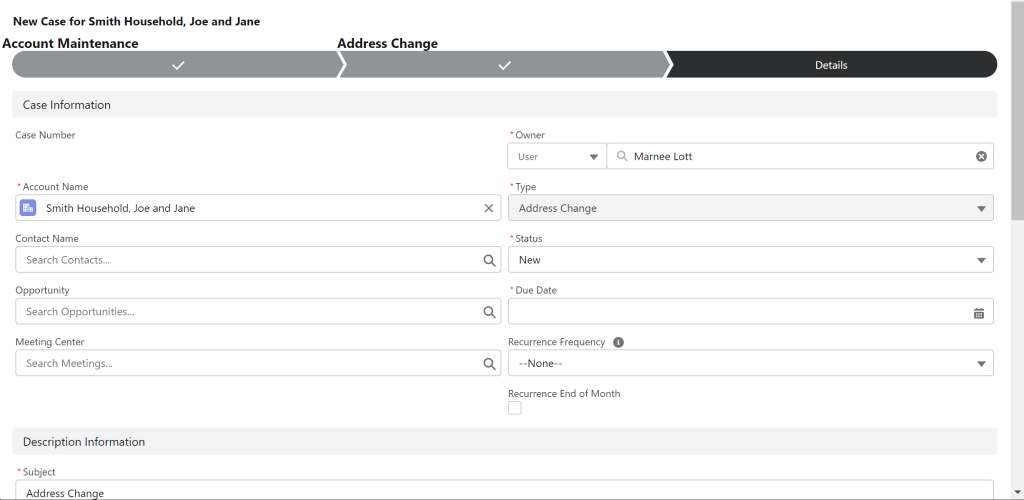 Once the user clicks Save at the bottom of the page, the Case record follows any established routing rules and automation already configured in Salesforce for processing. In our example, the Address Change Case may have automatically been routed to the Client Services Queue.
Help everyone in your organization become more efficient and better organized by guiding users through the creation of service requests with ShellBlack's Business Process Launcher. Contact us today to get started.
You might also be interested in watching our webinar to see a demo of this Accelerator and four others.
Author Credit: Brent Downey, Director of Delivery and Salesforce Consultant at Shellblack.com