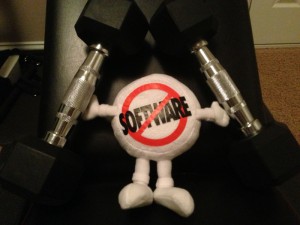 I've been consulting on Salesforce.com since 2005 and absolutely have loved the evolution of the platform. Being critical of Salesforce is comparable to someone sitting in a quarter million Ferrari and saying "a yellow tachometer – what were the folks in Maranello thinking!?" I consider myself a die-hard Salesforce evangelist. It's why I got certified, participate in my local user group, and started my own Salesforce consulting company here in the Dallas area. Now that I've professed my love for Salesforce, there are some areas where Salesforce is showing it's age. Areas that need a little work – a little Botox, a little nip and tuck, a few months with a personal trainer, or a general makeover.
Email Marketing
I made this a pretty big bucket as the email editor and the mass email feature in Salesforce haven't been updated since, well, as long as I can remember. In a series of tutorials I've outlined the building blocks of email marketing: how to make a email letterhead, how to create an email template that uses mail merge fields, how to create an email using HTML, and how to send mass emails from Salesforce.
I'm sure when Salesforce first started out, their online email tools were pretty cutting edge, but now I think customers expect more – more templates and better formatting controls. As I work with clients I hear from folks in marketing that they end up switching from the native mass email functionality to an ESP (Email Service Provider) because of one of the following reasons (1) opt out management / CAN-SPAM compliance, (2) more variety and easier to use templates, and of course (3) to escape the governor limits on the volume of emails that can be sent in one blast or a single day. Salesforce for many years has seemed quite content to let ESPs manage the email marketing needs of marketing users. Perhaps with Oracle's recent acquisition of Eloqua that will soon change. (UPDATE: Salesforce.com made a 2.5 Billion dollar of acquisition of ExactTarget on 6/5/2013 – so maybe mass email marketing will be coming to the platform!)
One other item I'll throw into the "Email Marketing" bucket, clients also want the ability to modify the native Stay-In Touch request email (e.g. control the branding and fields presented).
Lead Conversion
Probably the biggest criticism I have about the Lead Conversion process is that you might as well not bother having a custom object on a Lead because you'll lose the association to a custom object during the conversion process (unless you're willing to do a lot of custom development – which most small businesses can't afford). It forces some clients to convert sooner than they'd like in order to leverage a custom object.
For those Admins that have been to Dreamforce a couple of times might have heard this concern echoed in some of the "True to the Core" sessions. Lead Conversion seems to be one of those legacy "hard wired" areas of Salesforce that would take a lot to open up and make configurable. Will this ever change? We'll have to wait and see.
Home Tab – My Tasks
On the Home Tab I would love to see the ability to customize the columns on "My Tasks." Ideally I would allow users to run activity views from the "My Tasks" section of the Home page. If that was possible then you could display custom fields, control the sort order, and create custom activity lists (e.g. My Delegated Activities, Pending Tasks Due in the Next 30 Days, etc).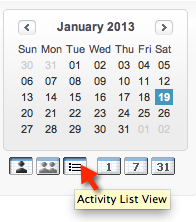 From my experience, users have a hard time figuring out that they can navigate to an Activity View from one of the buttons under the Calendar icon on the Home Tab. It's not super intuitive. If users could create that Activity View from the "My Tasks" section of the Home Tab you'd eliminate that problem as well.
Home Tab – Dashboard Snapshot
As I've mentioned before I'm not a fan of the Dashboard Snapshot on the Home Tab, mainly because you can't lock it down to one dashboard. It's a dynamic element based on the last dashboard the user looked at from the Dashboard Tab. Because it's dynamic, it always spawns a bunch of questions from users like "Hey, why did my dashboard change on my Home Tab? Can you fix that?" I'd like to see a search field like on the Dashboard Tab so users can change it as needed and have that selection completely unrelated to what they viewed last on the Dashboard tab.
Enhanced Calendaring
Not sure what is best of class (Google?), but my clients are never impressed with how calendars look inside Salesforce (more specifically "group" views). Also the ability to see shared resources on a calendar would be great (conference rooms, projectors, etc).
Native Import Wizards
Way back in the day (2005 and 2006) I used to teach the 5-day Administrator class for Salesforce.com. Back then we trained on how to use the native Account and Contact import wizard. Seven years later the import wizards have not changed. They are still limited to Leads, Accounts and Contacts, Custom Objects, and Solutions. I would have thought by now Cases, Opportunities and Activities would have made the list. For customers without the API (running Professional Edition or lower), this would be helpful.
Mac Support
I'm surprised with Apple's recent resurgence of popularity that Salesforce doesn't provide better Mac support. Internally a lot of Salesforce employees use Mac, so it makes me wonder what they use internally to support these users. I've said it before, and I'll say it again. Thank you Simon Fell for creating LexiLoader (a version of the Data Loader) and, Maildrop (email sync for the Mac Mail).
IdeaExchange – Be Part of the Community
So what can we do to help? If you (and I) have suggestions on how to make Salesforce better, be an active part of the community and voice your thoughts on the IdeaExchange so Salesforce can get a better pulse on what should be on their product roadmap. Salesforce product managers monitor the IdeaExchange to learn from customers which features they'd like to see in future releases – so vote up those Ideas!