Salesforce Financial Services Cloud (FSC) enables wealth managers to provide a high level of service to their clients. FSC was developed collaboratively with leaders in the financial services industry to help advisors access relevant client data quickly — freeing up more time to leverage that information into personalized, expert recommendations tailored to each client's goals. For most custodians, client data is accessible in Salesforce through third-party applications such as Tamarac, Orion, or Addepar. For advisors affiliated with LPL Financial, the solution wasn't quite so simple until very recently. It is now possible for LPL Financial affiliates to pull client account information directly into Salesforce. This opens up new opportunities for LPL advisors to analyze and act on client information efficiently and effectively in one connected platform. LPL advisors can finally have a 360-degree view of their client relationships in an independent Salesforce instance. The only caveat is you must already receive a daily data feed from LPL.
Visibility to up-to-date client account information is essential to providing informed financial guidance. LPL financial account data can be imported into Salesforce on a daily basis, where it can be displayed, automated, and analyzed based on an organization's requirements. The integration into Salesforce typically includes three types of data — client, account, and account participant. Examples of the data that can be brought into Salesforce include:
Client Data

  — census data such as Name, Address, Phone, and SSN

Account Data

— integrates client financial account data including Open Date, Close Date, Market Value, and Instructions 

Account Participant Data

— identifies the Primary and Secondary account holders that link the financial accounts to the client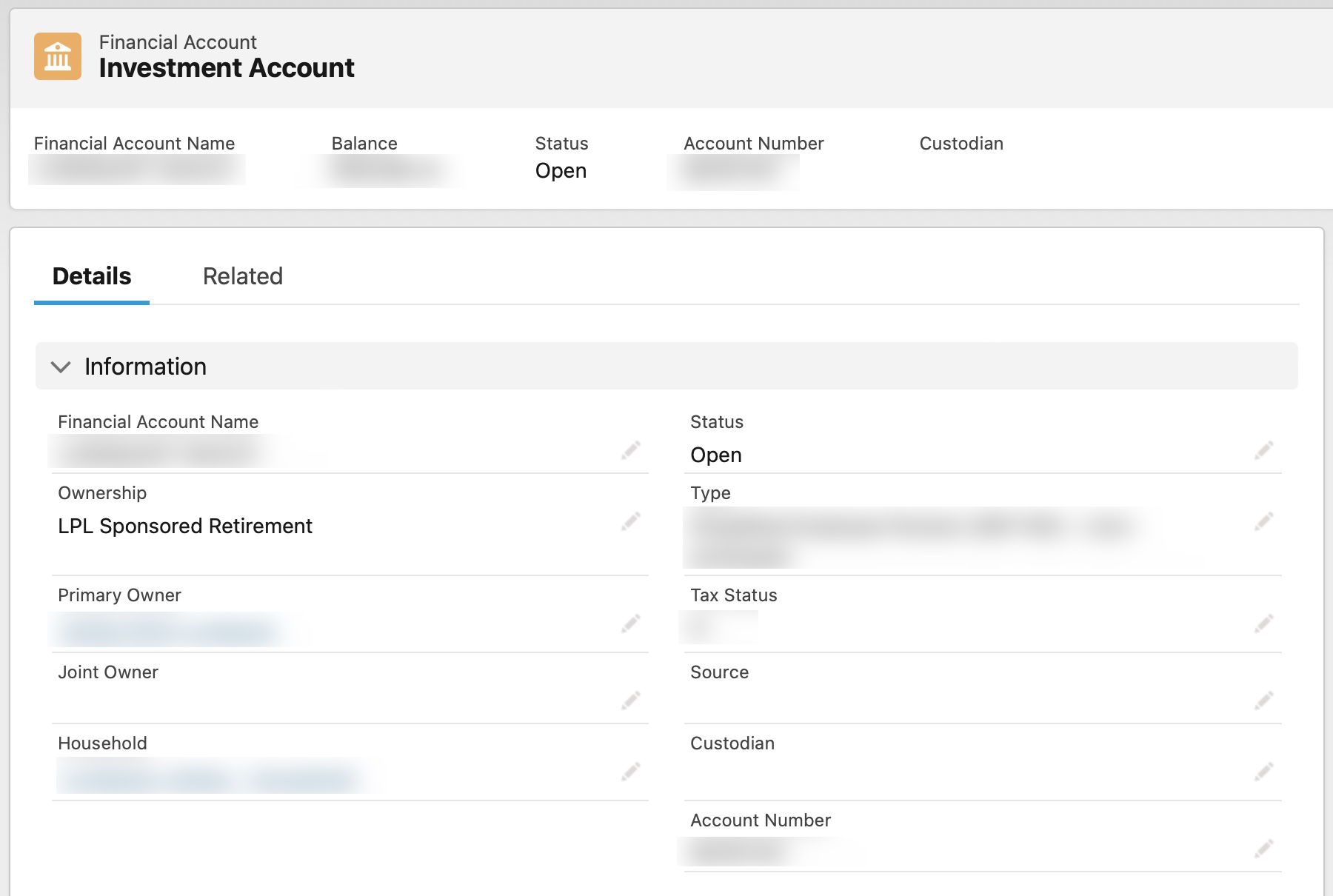 Once the data has been brought into Salesforce, custom reports and dashboards can be created for advisors to gain key insights.

If you're an LPL Financial affiliate who's eager to take advantage of these capabilities, ShellBlack can work with you to integrate your client account data into Salesforce Financial Services Cloud. To learn how this new functionality can support your book of business, or to get started with an integration engagement, connect with the specialists at ShellBlack who understand the unique requirements of financial services organizations.
Visit our Accelerator page to learn more about ShellBlack's other solutions tailored specifically for our Financial Services clients.
Author credit:
Jeff Martin VP of Delivery for ShellBlack.com